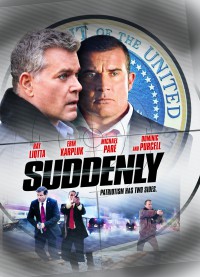 Release:
1 december 2013

Regie:
Uwe Boll (Rampage, Assault on Wall Street)


Cast:
Dominic Purcell (Killer Elite, Prison Break)
Ray Liotta (Sin City: A Dame to Kill For, Goodfellas)
Erin Karpluk (Assault on Wall Street, Being Erica, Reasonable Doubt)
Cole Coker
Michael Paré (The Philadelphia Experiment, The Lincoln Lawyer, The Virgin Suicides)


Genre:
Thriller


Jaar: 2013





A Première TV Distribution Release
SYNOPSIS
Tijdens zijn visvakantie besluit de Amerikaanse president het pittoreske bergdorpje Suddenly aan te doen. Zijn onverwachte komst wordt grondig voorbereid door een eliteteam van de Geheime Dienst. De agenten kammen het stadje uit en bundelen hun krachten met het plaatselijke sheriffkantoor om de veiligheid van de leider van de vrije wereld te garanderen. Als hoofdkwartier kiezen ze het hogergelegen huisje van een oorlogsweduwe uit. Ideaal als observatiepost, of hebben de vier agenten andere plannen? Wanneer Deputy Todd (Ray Liotta), een aan lager wal geraakte oorlogsveteraan, vraagtekens plaatst, wordt dat als dronkemanspraat afgedaan. Maar Todd zit dichter bij de waarheid dan ze in Suddenly vermoeden... In deze ongemeen spannende actiethriller van cultfilmer Uwe Boll herkent u verder ook nog Dominic Purcell (Prison Break), Erin Karpluk en actiester Michael Paré.
REVIEWS
1nfluxmagazine.com: Another unexpectedly decent movie from Mr Uwe Boll. This is getting to become a habit! I would say this is the best I've seen from Uwe Boll.
MediaMikes.com: I have always had a sweet spot for Uwe Boll's film but this is definitely one of his best. It is well shot and packs some solid suspense.
DOWNLOADS
Je moet ingelogd zijn om deze informatie te bekijken.
.