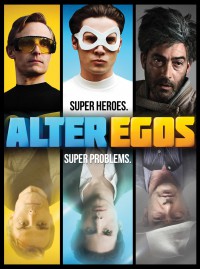 Release:
1 juni 2014

Regie:
Jordan Galland


Cast:
John Ventimiglia (The Iceman, The Sopranos)
Danny Masterson (Yes Man, Face Off)
Joey Kern (Cabin Fever, The Goods: Live Hard, Sell Hard)
Brooke Nevin (I'll Always Know What You Did Last Summer, Breakout Kings)
Kris Lemche (eXistenZ, Final Destination 3)


Genre:
Komedie


Jaar: 2012





A Première TV Distribution Release
SYNOPSIS
De man in de straat heeft het een beetje gehad met superhelden en de overheid wil een wet stemmen die de financiële steun aan Supercorps terugschroeft. In dat onzekere klimaat wordt Fridge, die de gave heeft om dingen te bevriezen, door zijn collega C-Thru, x-ray-expert, naar een motel ontboden voor een geheime opdracht. Maar Fridge worstelt met een uniek relatieprobleem. Als superheld beleeft hij een affaire met Emily, de – ontrouwe – vriendin van zijn eigen alter ego Brendan, artiest-annex-loser. Brendan voelt op zijn beurt wel iets voor Claudel, de receptioniste, die een hekel heeft aan... Fridge. Tot overmaat van ramp zou Shrink, de schurk die door C-Thru wordt vastgehouden in zijn motelkamer, iets te maken hebben met de dood van Brendans ouders en blijken de motieven van C-Thru en Supercorps niet helemaal zuiver op de graat... Alter Egos is een geslaagde parodie op het superheldengenre, een originele, zwarte indiecomedy over de kleinmenselijke kantjes van superhelden.
REVIEWS
eFilmCritic.com: Actually manages to be super-entertaining. Galland handles things very well as both a writer and director, but it's up to the cast to sell it, and they do a pretty great job
Foolsview: amusing meditation on the superhero mythos.
MediaMikes.com: The film is very smarty written and directed. The great casting overall is one of the main reasons why this film succeeds.
Popmatters.com: an intimate dramedy examining the psychology, personal lives, and cultural alienation of costumed adventurers. 8/10.
DOWNLOADS
Je moet ingelogd zijn om deze informatie te bekijken.
.