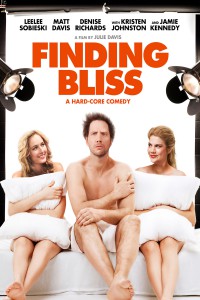 Release:
15 december 2011

Regie:
Julie Davis


Cast:
Denise Richards (Starship Troopers)
Leelee Sobieski (88 Minutes)
Matthew Davis (The Vampire Diaries)
Kristen Johnston (3rd Rock from the Sun)


Genre:
Komedie


Jaar: 2009





A Première TV Distribution Release
SYNOPSIS
Het enige wat filmstudente Jody na een jaar in L.A. regisseerde, was het verkeer op een studioterrein. Dan biedt Irene Fox, ex-pornodiva en boegbeeld van Grind Productions, haar een uitgelezen kans: een seksfilm met arthouse-ambities monteren. Maar Jody heeft een lichte aversie van seks, en bovendien, wat zouden haar strenge joodse ouders niet zeggen? Dan ziet ze Grinds puike productiefaciliteiten en de mogelijkheid om, 's nachts en stiekem, haar eigen droomproject te realiseren, een romantische indiecomedy. Terwijl ze dag én nacht werkt, en de mensen op en rond de set(s) beter leert kennen, zoals de charmante, maar cynische regisseur Jeff Drake en de suffe, maar lieve dekhengst Richard 'Dick' Harder, begint ze ook haar eigen frustraties te verwerken...
REVIEWS
Variety.com: Davis sustains a steady level of soft humor throughout, thanks to her heroine's inexhaustible shockability and the palpable charm of the other thesps. As Grind's production head, Kristen Johnston injects her wonderfully sardonic practical-mindedness with a touch of maternal amusement.
DOWNLOADS
Je moet ingelogd zijn om deze informatie te bekijken.
.