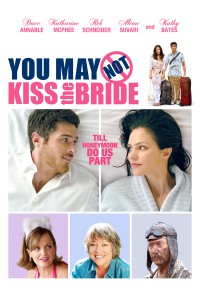 Release:
5 februari 2013

Regie:
Rob Hedden


Cast:
Dave Annable (Brothers & Sisters)
Katharine McPhee (Smash)
Rob Schneider (Deuce Bigalow, You Don)
Kathy Bates (Titanic, About Schmidt)
Vinnie Jones (Snatch, Hijacked, X-Men: The Last Stand)
Tia Carrere (True Lies)
Ken Davitian (Borat)


Genre:
Romantische komedie


Jaar: 2011





A Première TV Distribution Release
You May Not Kiss The Bride
SYNOPSIS
Na een incident met de Kroatische misdaadbaas Nikitin wordt Bryan voor het blok gezet: ter plaatse het loodje leggen of trouwen met zijn dochter Masha, zodat ze legaal Amerika binnen kan. Bryans moeder is in de wolken – kleinkinderen! – , zijn manipulatieve assistente Tonya – hij is van mij! – een stuk minder. Wanneer Bryan eindelijk zijn mooie aanstaande leert kennen, krijgt hij een niet mis te verstane waarschuwing: trouwen mag, haar kussen niet... Masha is van Brick, een stikjaloerse huurmoordenaar. Wanneer Masha en Bryan tijdens hun huwelijksreis op Tahiti naar elkaar toegroeien en Masha ontvoerd wordt, beginnen de problemen pas echt!
REVIEWS
Filmdilettante.com: A funny storyline, a good comic cast, and great sight gags ... a shining example of the genre.
ScreenSpotlight.com: Katharine McPhee seems so sweet and innocent and David Annable has a bright future.
Washington Post: Its lunacy is well staged and fast-paced.
Matchflick.com: YOU MAY NOT KISS the BRIDE is a Rom-Com for guys, full of physical comedy, explosions, and gunplay, and for girls who like the nice guy to get the girl, complete with a very gooey Hollywood Ending. Let's just say everyone's dreams came true, which is no real spoiler for a Rom-Com.
Themoviescene.co.uk: The likeability of Dave Annable and Katharine McPhee combined with a recognizable supporting cast and some genuinely amusing scenes makes it a pleasant surprise and much better than you probably expect.
Screenspotlight.com: Katharine McPhee seems so sweet and innocent and David Annable has a bright future in the movie business. This film definitely needs more Rob Schneider but his absence is forgivable as his character is by definition a colossal dumbass. Vinnie Jones is his typical rugged and bullying self (not a compliment). It is always worth a look to see Ken Davitian trying to play a character that is not associated with Borat. Perhaps my favorite character/actress in the film is Mena Suvari. She is willing to do whatever it takes to entertain audiences and it is clear that her incredible physique is often overlooked. Essentially, You May Not Kiss the Bride is worth your attention.
DOWNLOADS
Je moet ingelogd zijn om deze informatie te bekijken.
.