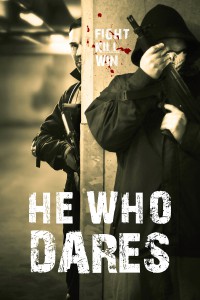 Release:
10 februari 2015

Regie:
Paul Tanter


Cast:
Zara Phythian (The Hike)
Ben Loyd-Holmes (Band of Brothers)
Ewan Ross (Age of Heroes, White Collar Hooligan 2: England Away)
Christina Bellavia
Tom Benedict Knight (Kick-Ass 2, White Collar Hooligan 2: England Away)
Simon Phillips (He Who Dares)


Genre:
Actie


Jaar: 2014





A Première TV Distribution Release
SYNOPSIS
Een eliteteam van de SAS. Vijftien verdiepingen. Eén doelwit...
Wanneer een meedogenloze terreurorganisatie de dochter van de Premier gijzelt, wordt een SAS-eliteteam opgetrommeld om haar te bevrijden. Maar de terroristen hebben zich diep in de vijftien verdiepingen tellende ondergrondse parkeergarage van een gebouw gebarricadeerd. Met slechts één in- en uitgang zit er voor het team niets anders op dan garage etage per etage te veroveren. De dood ligt om elke hoek op de loer, en voor de zes elitesoldaten begint een zenuwslopende race tegen de tijd...
He Who Dares is een verpletterende actiethriller die je op het puntje van je stoel laat zitten, met Tom Benedict Knight (Kick Ass 2), Ben Lloyd Thomas (Skyfall), Simon Phillips (The Fall of the Essex Boys) en de sexy vechtsportster Zara Phythian.
REVIEWS
1nfluxmagazine.com: A taut action picture that kept me on the edge of my seat.
28dayslateranalysis.com: He Who Dares is a solid action film for those looking for some light entertainment. 7.5 out of 10: an intriguing premise, good acting, lots of violent scenarios.
Britflicks.com: Director Paul Tanter (The Rise & Fall of a White Collar Hooligan) doesn't disappoint with some cracking shoot outs and hand to hand combat. Phillips revels in the larger than life, evil kingpin role, and it's an exciting surprise when the martial arts bombshell Zara Phythian gets to show off a roundhouse or two.
DOWNLOADS
Je moet ingelogd zijn om deze informatie te bekijken.
.