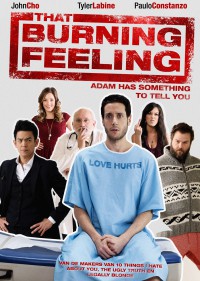 Release:
2 december 2014

Regie:
Jason James


Cast:
John Cho (Harold & Kumar, Star Trek, Identity Thief)
Paulo Costanzo (40 Days and 40 Nights, Royal Pains)
Tyler Labine (Rise of the Planet of the Apes, A Good Old Fashioned Orgy)
Emily Hampshire (Snow Cake, Cosmopolis)
Jay Brazeau (Insomnia, Watchmen)


Genre:
Komedie
Romantische komedie


Jaar: 2013





On Behalf of H.O.M. Vision
SYNOPSIS
Adam Murphy heeft het goed voor elkaar: een succesvolle carrière in vastgoed, leuke vrienden en een eindeloze parade aan one-night-stands met oogverblindende vrouwen. Maar wanneer hij op een ochtend wakker wordt met een brandend gevoel, moet hij van de dokter zijn voormalige vlammen opzoeken en informeren over zijn SOA. Alsof die confrontaties met zijn ex-vriendinnen niet heftig genoeg zijn, wordt Adam ook nog eens verliefd op Liz. Maar hoe kan hij Liv vertellen dat hij met een brandende kwestie zit?
REVIEWS
Cinemablographer.com: The supporting players might be the funny bone of the film, but Adam and Liv's hesitant, cautious push-and-pull courtship is easily the heart thanks to the winning leads by Costanzo and especially Haas. Fans hoping for a rambunctious/raunchy outing in the vein of last year's An Awkward Sexual Adventure might be surprised by the uncontrived sweetness of the film (the irresistible presence of Hampshire, plus the marketing, could bring expectations of more T-shirt rated humor), but that Burning Feeling is surprisingly adorable for a film about the Clap.
Straight.com: Has enough enthusiasm for place (Vancouver, playing the U.S. Northwest) and protagonist (a go-getter waylaid by something he got) to hold audience interest.
Rowthree.com: Though initially it was the idea of a romantic comedy about STDs that caught my attention, That Burning Feeling brings a depth and nuance that is mostly lacking from its Hollywood counterparts. Smart, funny and hugely entertaining, That Burning Feeling is a winner.
Cinemagazine.nl: Origineel of niet, 'That Burning Feeling' amuseert anderhalf uur lang. Ook is het niet moeilijk om je hart te verliezen aan de lieve sukkels die de film bevolken. Als promotie voor condoomgebruik is deze film zelfs onovertroffen: de pijn gaat recht door het scherm naar je kruis. Niet fijn, wel grappig.
AWARDS
Vancouver International Film Festival 2013: Best Canadian First Feature.
DOWNLOADS
Je moet ingelogd zijn om deze informatie te bekijken.
.