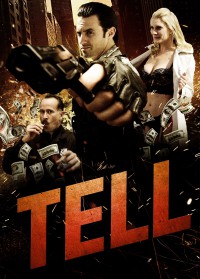 Release:
24 februari 2015

Regie:
J.M.R. Luna


Cast:
Milo Ventimiglia (Heroes, Grace of Monaco, Gamer, Killing Season)
Katee Sackhoff (Battlestar Galactica, The Chronicles of Riddick: Dead Man Stalking, Oculus)
Jason Lee (Cop Out, My Name Is Earl, Vanilla Sky, Jay and Silent Bob Strike Back)
Alan Tudyk (I Robot, Transformers: Dark of the Moon, Knocked Up, 3:10 to Yuma)
Faizon Love (The Paperboy, Big Mommas: Like Father, Like Son, Elf)
Robert Patrick (Terminator 2, Jayne Mansfield's Car, Flags of Our Fathers, Walk the Line)
Oscar Nunez (The Office, The Proposal)


Jaar: 2014





A Première TV Distribution Release
SYNOPSIS
Tell, Ethan Tell. Geen dief van dertien in een dozijn, maar slim, vooruitdenkend, en altijd bij de pinken. Iets te braaf, wellicht. Tonnen lef, dat wel. Maar brute pech nekt zelfs het beste plan. De simpele klus die hem een miljoen dollar zou opleveren, loopt faliekant af en Tell verdwijnt voor drie jaar achter de tralies. Als hij weer op vrije voeten komt, blijkt zijn leven in de cel een lachertje vergeleken met de hel daarbuiten. De ex-partner die hij om de tuin leidde, zijn inhalige ex-vrouw, zijn reclasseringsambtenaar en twee corrupte agenten staan allemaal te popelen om te weten waar de slimmerik de buit verborgen heeft. Alleen, hij weet het niet. Echt niet. Of... weet Tell het wel?
Keiharde misdaadfilm boordevol plotwendingen en gitzwarte humor met een absolute topcast: Milo Ventimiglia (Heroes), Katee Sackhoff (Battlestar Galactica), Jason Lee (My Name Is Earl) en Robert Patrick (Terminator 2)
REVIEWS
1nfluxmagazine.com: Tell is Juan M.R. Luna's impressive debut solo directorial effort, with writing by Timothy Williams, whose darkly witty script was one of the highlights of the film. Similar in some respects to Paul McGuigan's 2006 crime caper Lucky Number Slevin, Tell follows the exploits of Milo Ventimiglia's unlucky character, Tell. Like with Slevin Kelevra, Tell goes through the movie being hit in the face by ruthless people who want answers. Tell is played by the hugely talented Milo Ventimiglia, who really nailed his character. If this is a glimpse of things to come from director J.M.R. Luna, then I'll be making a point to see his future efforts. Highly recommended viewing.
DOWNLOADS
Je moet ingelogd zijn om deze informatie te bekijken.
.