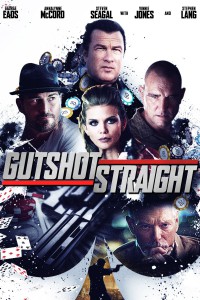 Release:
13 april 2015

Regie:
Justin Steele


Cast:
George Eads (CSI)
AnnaLynne McCord (90210, Officer Down, Scorned)
Stephen Lang (Avatar, Don't Breathe, In The Blood)
Ted Levine (Shutter Island, The Silence of the Lambs, American Gangster, The Bridge)
Steven Seagal (Under Siege, A Dangerous Man, Executive Decision)
Vinnie Jones (Snatch, Hijacked, X-Men: The Last Stand)
Tia Carrere (True Lies)
Fiona Dourif (The Messenger, The Master)


Jaar: 2014





A Première TV Distribution Release
SYNOPSIS
Alles te verliezen? Niets te verliezen? Gokken moet je toch.
Het ontbreekt Jack Daniel (George Eads) niet aan looks of charmes, maar hij verkwanselt zijn leven en talenten met gokken en drinken. Hij knoopt de eindjes aan elkaar met een klusje hier, een pokeravondje daar, tot de alimentatie voor zijn ex en jonge dochtertje en zijn schulden bij bookmaker Paulie Trunks (Steven Seagal) hem aan de rand van de afgrond brengen. Dan leert hij Duffy kennen, een steenrijke gokker die zich als zijn reddende engel profileert. Helaas raakt Jack verwikkeld in een web van moord en chantage, met Duffy's broer en bloedmooie vrouw als spilfiguren. Wanneer zijn pokermaatjes en zelfs zijn gezin bedreigd worden, zit er voor de wanhopige Jack niets anders op dan zijn kwelgeesten te bestrijden met de grootste gok van zijn leven.
Bikkelharde, intrigerende thriller met tal van plotwendingen en heel wat bekende gezichten: George Eads (CSI), AnnaLynne McCord (90210), Stephen Lang (Avatar), Ted Levine (Shutter Island), Steven Seagal (Under Siege), Vinnie Jones (Snatch), Tia Carrere (True Lies) en Fiona Dourif (The Messenger).
REVIEWS
Flickeringmyth.com: The film looks great with some slick and colourful visuals, the acting is pretty good and the story set-up is fantastic and really draws you in.
Goodefficientbutchery.blogspot.nl: Seagal gets a terrific monologue about why he's called "Paulie Trunks" and has a few genuinely funny, possibly ad-libbed lines and he makes every moment count. Gutshot Straight has a lot of positives in its favor.
Devon-cornwall-film.co.uk: A nifty little B-movie neo-noir. He may be one of the least showy CSI cast members, but blank canvas George Eads is a surprisingly effective noir antihero, and shoulders the double-crossing narrative convincingly. Admittedly, the pace does slacken in the second half of the film, but Gutshot has enough worthwhile moments to keep you interested. Inessential, but strangely appealing.
DOWNLOADS
Je moet ingelogd zijn om deze informatie te bekijken.
.