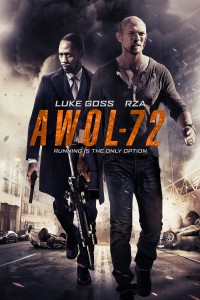 Release:
1 juni 2015

Regie:
Christian Sesma


Cast:
Luke Goss (Hellboy II, Blade II, Death Race II, Blood Out)
Bokeem Woodbine (The Chronicles of Riddick: Dead Man Stalking, Total Recall, Ray, The Rock)
RZA (G.I. Joe: Retaliation, Californication, American Gangster)
Heather Roop (All My Children, Guns, Girls and Gambling)
Louis Mandylor (My Big Fat Greek Wedding 1 & 2, One in the Chamber)


Genre:
Actie


Jaar: 2015





A Première TV Distribution Release
SYNOPSIS
Tijdens de Koude Oorlog zou Conrad Miller (Luke Goss - Hellboy II, Blade II, Death Race II, Blood Out), een voormalig legerofficier van de Special Forces, geheime informatie verkocht hebben aan de KGB. Hoewel hij "AWOL" – absent without leave – ging en officieel van de aardbodem verdwenen is, probeert hij in L.A. een nieuw leven op te bouwen aan de zijde van de mooie Laura, de Russische ex-spionne voor wie hij destijds alles op het spel zette.
Maar wanneer het tot Miller doordringt dat zowel de Russen, de LAPD als een hitman van de Special Forces hem op de hielen zitten en zijn broze geluk bedreigen, stelt hij zijn noodplan in werking. Hij heeft 72 uur om het rendez-vouspunt te bereiken en ongedeerd het land te verlaten met Laura en de enige geheimen die hem in leven kunnen houden...
Zenuwslopende en bikkelharde actiethriller met, naast Luke Goss, ook Bokeem Woodbine (Total Recall, The Rock), rapper RZA (G.I. Joe: Retaliation, American Gangster), Heather Roop (All My Children, Guns, Girls and Gambling) en Louis Mandylor (My Big Fat Greek Wedding, One in the Chamber).
REVIEWS
Cooltarget.blogspot.co.uk: AWOL-72 is stylishly shot, Luke Goss makes for a commanding leading man (let's get him in a big budget action film again!), the final fifteen minutes has some nicely staged gunplay and hand-to-hand fights (there should have been more of this), the supporting cast of familiar faces is a welcome touch and, well, Sesma certainly fills the running time with a plethora of beautiful women.
DOWNLOADS
Je moet ingelogd zijn om deze informatie te bekijken.
.