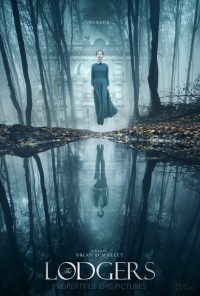 Release:
TBA Q1 2018

Regie:
Brian O'Malley


Cast:
Bill Milner (Dunkirk, X: First Class, Locke)
Charlotte Vega (American Assassin, Another Me)
David Bradley (Harry Potter, Game of Thrones)
Eugene Simon (Game of Thrones, Ben Hur)


Genre:
Horror


Jaar: 2017

A Première TV Distribution Release
SYNOPSIS
1920, het Ierse platteland. De tweeling Rachel (Charlotte Vega - Another Me) en Edward (Bill Milner - X: First Class, Locke) deelt een gruwelijk familiegeheim. Elke nacht valt hun afgelegen landgoed ten prooi aan de sinistere Lodgers, die hen drie regels opleggen: voor middernacht in bed liggen, geen buitenstaanders binnenlaten, elkaar nooit alleen laten. Wie probeert te ontsnappen, zet het leven van de andere op het spel. Dan keert de getroebleerde oorlogsveteraan Sean (Eugene Simon – Game of Thrones) naar het nabijgelegen dorp terug. Hij voelt zich aangetrokken tot de mysterieuze Rachel, die de regels van de Lodgers aan haar laars begint te lappen. Ze wordt meegezogen in een dodelijke confrontatie met haar broer… en de vloek die van oudsher op hen rust.
Regisseur Brian O'Malley (Let Us Prey) verfijnt zijn beklijvende gothic horror-stijl door het beste uit de klassieke en hedendaagse griezelfilm met elkaar te verzoenen: sfeervolle fotografie in prachtige decors, psychologische terreur en ijzingwekkende plotwendingen. En de karakterkop van veteraan David Bradley (Harry Potter, Game of Thrones…) past perfect in het plaatje…
REVIEWS
Variety.com: Enchantingly gloomy and lustrous, this lushly staged costume chiller is a fragrant beauty indeed.
Cineuropa.org: O'Malley creates a lurid atmosphere by using cinematographer Richard Kendrick's gentle camera movements and Tony Kearns' measured editing to maximum effect, and even elevating the elements of the production design, such as the house and the menacing water, to the level of lively characters. The old, beautiful and broken mansion, with all its creaking noises and its huge wooden staircase, is allegedly a real-life haunted house, while the water the ghostly creatures live in, emerging from down below and rushing up to the ceiling in drops, looks impressive in CGI, making The Lodgers a must-see for fans of gothic horror cinema.
Comingsoon.net: here hasn't been a more effective, disturbing and sensorially pleasing film of this kind since Alejandro Amenabar's The Others and, like that masterpiece, O'Malley's artful, lurid and meticulously orchestrated exercise in atmosphere, pretty misery and dread seeps deep under your skin. And it stays there. For keeps.
Digitaljournal.com: 'The Lodgers' is a chilling, gothic tale of co-dependent twins imprisoned by a family curse.
Dreadcentral.com: Delicately crafted, The Lodgers is a richly woven tapestry of classically inspired gothic horror. Smart, scary, and undeniably beautiful, it will no doubt be considered one of the pinnacles of its genre.
Thefilmstage.com: So we let the atmospheric mood draw us into the horror as mystery makes way towards scares. The whole looks gorgeous from the macabre carcasses of long-dead pets to the image of two bodies silently floating above the lake as O'Malley holds our attention with the rising malevolence executed by Milner and inspiring desire to take hold of her destiny imbued by Vega. That which frightens them is left shrouded in secrecy beyond the connection to their blood and the result their disobedience secures.
DOWNLOADS
Je moet ingelogd zijn om deze informatie te bekijken.
.