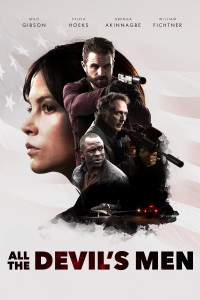 Release:
20 december 2018

Regie:
Matthew Hope


Cast:
Milo Gibson (Hacksaw Ridge)
Sylvia Hoeks (Blade Runner 2049, Overspel, Bloedverwanten, Bende van Os)
William Fichtner (12 Strong, Independence Day: Resurgence, Drive Angry)
Gbenga Akinnagbe (The Taking of Pelham 123, Edge of Darkness, Independence Day: Resurgence)
Elliot Cowan (Da Vinci's Demons, Muse)


Genre:
Actie


Jaar: 2018





A Première TV Distribution & Source 1 Media Release
SYNOPSIS
Voormalig Navy SEAL Jack Collins (Milo Gibson, Hacksaw Ridge, zoon van Mel) is verslaafd aan pillen. En aan oorlog. Een afwijking die hem goed van pas komt bij het opsporen van terroristen, iets wat hij doet voor een privébedrijf, in opdracht van de CIA. Maar de premiejager kampt met persoonlijke demonen en van hogerhand stelt men zich vragen bij de potentiële risico's. Daarom geeft zijn CIA-contact Leigh (Sylvia Hoeks – Blade Runner 2049, Overspel) hem een ultieme kans om in de frontlinies te blijven: met een driekoppig team moet hij in Londen de overgelopen CIA-agent McKnight vatten voor die de hand kan leggen op massavernietigingswapens. Maar McKnight dekt zich in de rug met een privémilitie die qua tactisch vernuft niet moet onderdoen voor Collins & Co. De leider van de vijand is immers een ex-strijdmakker.
Explosieve, no-nonsense actiefilm in een drukkend grootstadsdecor, met strakke hand gedirigeerd door Matthew Hope (The Veteran, The Vanguard).
REVIEWS
Variety.com: Resourceful and energetic.
Hollywoodreporter.com: William Fichtner, terrific as usual.
Cinemagazine.nl: Energieke actiefilm.
Flickeringmyth.com: A compact, exciting movie. It was no-frills action, with the violence sitting a notch below gratuitous, with enough twists to keep you guessing how things might play out.
Moviesinfocus.com: Lives or dies on the action – and it delivers that in spades. There's a lot to enjoy here including visceral and punchy action sequences and a strong performance from Milo Gibson (son of Mel).
Radiotimes.com: Pacey, efficiently made action thriller. Gibson Jr has the glower if not the intensity of his old man, and gets solid support from William Fichtner (as a sardonic soldier buddy), The Wire's Gbenga Akinnagbe and Blade Runner 2049's Sylvia Hoeks (as his handler).
DOWNLOADS
Je moet ingelogd zijn om deze informatie te bekijken.
.