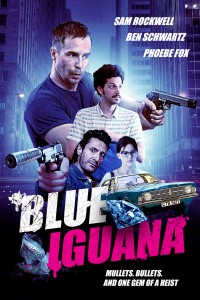 Release:
4 oktober 2018

Regie:
Hadi Hajaig


Cast:
Sam Rockwell (Three Billboards Outside Ebbing, Missouri (Oscar!), Moon)
Ben Schwartz (How to Be a Latin Lover)
Phoebe Fox (Eye in the Sky)
Peter Ferdinando (King Arthur: Legend of the Sword)
Al Weaver (Love Is Thicker Than Water)


Jaar: 2018





A Première TV Distribution Release
SYNOPSIS
Twee ex-bajesklanten en boezemvrienden - Eddie (Sam Rockwell - Three Billboards Outside Ebbing, Missouri, Moon) en Paul (Ben Schwartz - Parks and Recreation, BoJack Horseman) – slijten hun dagen in voorwaardelijke vrijheid, zwoegend in een New Yorkse eettent. Hun leven zit in het slop tot Katherine (Phoebe Fox - Eye in the Sky), een Engelse advocate, hen voorstelt om in Londen een onschatbare edelsteen te gaan stelen, de Blue Iguana. Hun grootste zorg is echter niet hoe ze de heist van de eeuw zullen waarmaken, maar de concurrentie van een psychotische misdaadbaas (Peter Ferdinando - King Arthur: Legend of the Sword). De zaak wordt er niet minder ingewikkeld op wanneer ook Cupido zich met de zaak gaat bemoeien …
Misdaadkomedie Blue Iguana zet niet alleen de eeuwenoude culture clash tussen VS en UK weer heerlijk in de kijker, maar trekt ook volop de kaart van zwarte humor à la Lock, Stock and Two Smoking Barrels en Snatch. Ook een aanrader voor liefhebbers van films als The Italian Job en The Thomas Crown Affair.
REVIEWS
De humor is lekker absurdistisch en dat geeft deze film een frisse sfeer. Hajaig probeert echt iets nieuws te doen en dat siert haar. 4/5. Lees de hele review hier.
RogerEbert.com: Achieves a certain goofball charm. Rockwell and Fox, in particular, do wonderfully well.
Filmthreat.com: Sam Rockwell can do no wrong in the fast-paced action-caper genre and fans will love his performance. Ben Schwartz, on the other hand, holds his own portraying a decidedly different contrast to Rockwell. His performance is meant to be a little quirky as the hapless criminal. He's fun to watch and never annoying. It gets a recommendation for Rockwell and Schwartz's performance alone.
Carlosdev.wordpress.com: A solidly entertaining and often fun piece of work.
Thecriticalcritics.com: There are many hilarious aspects at work here, and there is enough creativity and technical know-how awash throughout the film to keep audiences pinned to their seats. Snappy dialogue and technical innovation, enough to garnering several small laughing fits.
Eyeforfilm.co.uk: The great British crime caper is alive and kicking in the 21st Century. An enjoyable evening's entertainment.Fanboynation.com: Fun to watch this cast as a crew of often inept criminals.
JBSpins.blogspot.com: A lot of fans will be very curious to see Rockwell in such a different context, so it is nice to be able to assure them that he does not disappoint. Hajaig wrote and helmed a breezy romp that actually skips over the Tarantino era, drawing inspiration from the uber-cool 1980s and the colorfully tacky 1970s. It is a nice balance of attitude and nostalgia that should garner enthusiastic word-of-mouth. Recommended for caper movie fans.
Punchdrunkcritics.com: The budding romance between Sam's character, Eddie, and Phoebe's character, Katherine, that due to their chemistry is fun to watch.
Thatmomentin.com: The cast is all up for the gig, with Schwartz working hard and a delightfully unhinged Peter Ferdinando as the mullet-wearing Deacon Bradshaw chewing up every scene he's in. Rockwell is of course great fun to watch, earning some good moments with Fox and being the best reason to give this a look.
DOWNLOADS
Je moet ingelogd zijn om deze informatie te bekijken.
.