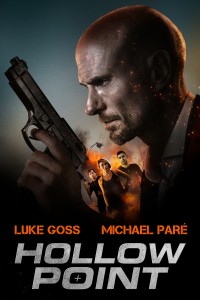 Release:
13 juni 2019

Regie:
Daniel Zirilli


Cast:
Luke Goss (Hellboy II, Blade II, Death Race II, Blood Out)
Bill Duke (Predator, Mandy, X-Men The Last Stand)
Michael Paré (The Philadelphia Experiment, The Lincoln Lawyer, The Virgin Suicides)
JuJu Chan (Crouching Tiger, Hidden Dragon: Sword of Destiny)


Genre:
Actie


Jaar: 2019

A Première TV Distribution Release
SYNOPSIS
De charismatische Hank Cormac is een advocaat en burgerwacht die een team van misdaadbestrijders leidt. Het team voert tegen de criminelen die hun stad teisteren een privé-oorlog. Wanneer de vrouw en dochter van dokter Nolan Cooray worden gedood bij een vuurgevecht blijkt het juridische systeem te falen. Nolan sluit zich aan bij Hank en zijn crew om wraak te nemen.
REVIEWS
Dansmoviereport.blogspot.com: Overall I give the film a 7 out of 10. Hollow Point is pretty good.
DOWNLOADS
Je moet ingelogd zijn om deze informatie te bekijken.
.