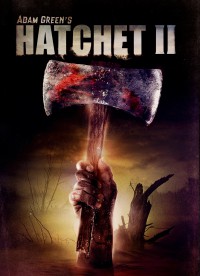 Release:
2 juli 2013

Regie:
Adam Green


Cast:
Danielle Harris (Cyrus, Halloween)
Kane Hodder (Hatchet I-III, Friday the 13th 7-9)
Tony Todd (The Man from Earth, The Rock)
Ed Ackerman (Frozen, The Change-Up)


Genre:
Horror


Jaar: 2010





A Première TV Distribution Release
SYNOPSIS
Hatchet 2 sluit naadloos aan bij het einde van de originele Hatchet, waarin de introverte, maar heetgebakerde Marybeth (Danielle Harris) in een klein bootje in de moerassen van Louisiana de longen uit haar lijf schreeuwt. Hoe zou je zelf zijn als je belaagd wordt door een wanstaltige, moordzuchtige moerasbewoner - Victor Crowley (Kane Hodder) - die net je hele gezelschap heeft uitgemoord? Wanneer ze half-waanzinnig naar de beschaafde wereld terugkeert, loopt ze opnieuw Reverend Zombie (Tony Todd) tegen het lijf, de voodoowinkeluitbater die het noodlottige boottochtje uit de eerste film organiseerde. Om Marybeth te helpen en zijn eigen verborgen agenda uit te voeren, rekruteert Eerwaarde Zombie een groepje bikkelharde jagers om zich te wreken op Victor Crowley... Een huiveringwekkend grappige horrorfilm die er lekker... inhakt.
REVIEWS
DVDVerdict.com: Based solely on the kills, this would be in the upper echelon of slasher films. The deaths are clever, funny, and well-executed, and as a fan of the genre I often found myself smiling, laughing, or exclaiming during the killing moments
FilmcriticsUnited.com: one of the most bloodily violent movies around. And I think that was the point. Point well taken.
The New York Times: Swift and amusingly brainless, Hatchet II more than delivers on splatter expectations.
Variety.com: Outrageously over-the-top gore doubtless will scare off all but the heartiest genre aficionados.
The Hollywood Reporter: Hatchet II earns bragging rights with buckets of giddily over-the-top blood 'n' guts in sequences that are as gratuitous as they are amusingly ridiculous.
Fearnet.com: Hatchet 2 is a lot of fun ... tailor-made for hardcore horror fans who miss the old-school slasher flicks, but certainly enjoy it when 'one of our own' heads back to the well for some gore, mayhem, and carnage.
Boxoffice.com: Green's craft cuts deep--he's a smart, brutal puppet master who knows the power in his strings.
DreadCentral.com: Hatchet II is twice the gore, twice the intensity, twice the fun, love and balls-out craziness of the original.
Eyeforfilm.co.uk: a winning love letter to the splatter-slasher (splasher?) flicks of yore.
DOWNLOADS
Je moet ingelogd zijn om deze informatie te bekijken.
.