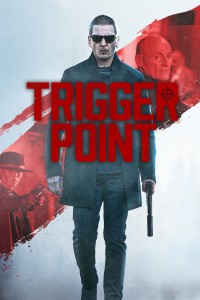 Release:
9 december 2021

Regie:
Brad Turner


Cast:
Barry Pepper (True Grit, Maze Runner 2 and 3)
Laura Vandervoort (Jigsaw, The Handmaid's Tale)
Colm Feore (Astronaut, House of Cards)
Eve Harlow (The 100)


Jaar: 2021





A Première TV Distribution Release
SYNOPSIS
Als lid van een eliteteam knapt Nicolas Brazer de vuilste klusjes op voor de overheid. Dan gaat hun dekmantel eraan en worden zijn collega's genadeloos vermoord. Aangewezen als zondebok en kampend met geheugenverlies, gaat hij onder de radar. Wanneer een oud-collega verdwijnt krijgt hij de kans om zijn goede naam te herstellen en zijn geheugen terug te vinden.
REVIEWS
Bulletproofaction.com: I had a fantastic time watching Trigger Point.

Entertainingmovie.com: An efficient assassin "gone to ground" thriller.

Jbspins.com: Surprisingly stylish.

Lylesmoviefiles.com: a solid action thriller.

Punchdrunkcritics.com: Enjoy watching Nicolas Shaw deliver that sweet, sweet justice down the barrel of his silenced hand cannon. Brad Turner and Barry Pepper Prove a Familiar Story Can Still Be Exhilarating.

Reelfilm.com: compelling action sequences.

Socialnews.xyz: Tough and surprisingly to some degree trendy.
DOWNLOADS
Je moet ingelogd zijn om deze informatie te bekijken.
.