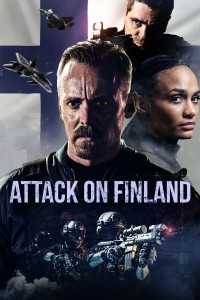 Release:
12 januari 2023

Regie:
Aku Louhimies


Cast:
Jasper Pääkkönen (BlacKkKlansman, Da 5 Bloods, Dark Tower)
Nanna Blondell (Black Widow)
Sverrir Gudnason (The Girl in the Spider's Web, Borg McEnroe)
Cathy Belton (Philomena)


Genre:
Actie


Jaar: 2022





A Première TV Distribution Release
SYNOPSIS
GROTENDEELS ENGELSTALIG.
Het feest voor de Finse Onafhankelijkheidsdag neemt een tragische wending wanneer een terreurcommando de ambtswoning van de President infiltreert en enkele hoge gasten gijzelt. Al snel wordt duidelijk dat er niet alleen mensenlevens op het spel staan. Ook het voortbestaan van Europa hangt aan een zijden draadje.

Attack on Finland is een spionagethriller naar de bestseller 6/12 van misdaadauteur Ilkka Remes. Hoewel wurgende spanning en splijtende actie centraal staan, is het duidelijk dat de link met de huidige gebeurtenissen in Europa voor een extra dimensie zorgen
REVIEWS
Eyeforfilm.co.uk: Fans of action and espionage will find a good deal to enjoy. With the shadow of Russian aggression looming over Finland at the time of release, it has topicality on its side.
Jbspins.com: The action itself is well-staged and often pretty intense. Enthusiastically recommended.
Jamesweggreview.org: The action is fast-paced, coupled with spot-on editing.
Thatshelf.com: a solid action-thriller. Sometimes, that is all you need.
Voicesfromthebalcony.com: Louhimies does a good job of building up the suspense and keeping Attack on Finland tight. The European perspective and the Finnish locations also make a nice change of pace.
DOWNLOADS
Je moet ingelogd zijn om deze informatie te bekijken.
.