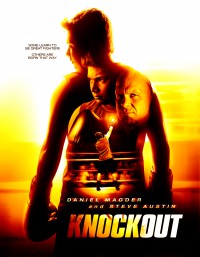 Release:
4 december 2012

Regie:
Anne Wheeler (Better Than Chocolate)


Cast:
Steve Austin (The Expendables)
Daniel Magder (Life with Derek)
Janet Kidder


Jaar: 2011





A Première TV Distribution Release
Collectie: 1 van 3
SYNOPSIS
Dan Barnes heeft zijn tumultueuze bestaan als bokser vaarwel gezegd en gaat aan de slag als conciërge in een middelbare school. Daar knoopt hij een speciale vriendschap aan met Matthew Miller, een nieuweling die het doelwit is van pesterijen. De pestkoppen worden aangevoerd door de arrogante Hector Torres, regerend bokskampioen van de school. Barnes, die het niet langer kan aanzien, besluit zijn pupil te trainen voor het nakende kampioenschap. Gaandeweg brengt hij hem een belangrijke levensles bij: wie je bent, en wat je kunt, bepaal je uiteindelijk allemaal zelf! Knockout combineert elementen van Rocky en The Karate Kid tot een feelgood actiefilm met spetterende boksscènes.
REVIEWS
Blu-ray.com: Knockout is a fine film. It's the sort of movie destined to succeed through heart and message.
FilmCriticsUnited.com: If let you your guard down for just a minute you will get swept up.
UpComingDiscs.com: the movie warmed me up and put out a lasting finish full of charm and heart.
DOWNLOADS
Je moet ingelogd zijn om deze informatie te bekijken.
.