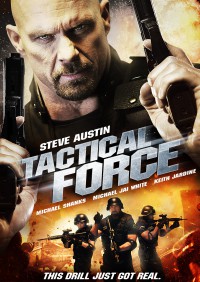 Release:
15 mei 2012

Regie:
Adamo P. Cultraro


Cast:
Steve Austin (The Expendables)
Michael Jai White (The Dark Knight)
Michael Shanks


Genre:
Actie


Jaar: 2011





A Première TV Distribution Release
SYNOPSIS
Hangar 14 is een reusachtige, ontmantelde vliegbasis op een uitgestrekt militair domein. Door zijn geïsoleerde ligging is het ook het perfecte oefenterrein voor de tactieken van SWAT-kapitein Frank Tate en zijn eliteteam van de LAPD. Wat de agenten echter niet weten, is dat zich ergens in Hangar 14 een voorwerp bevindt waar twee rivaliserende en tot de tanden bewapende partijen naar op zoek zijn. Wanneer de criminele concurrenten erachter komen dat Tate en zijn mannen enkel met losse flodders kunnen schieten, bundelen ze hun krachten om het SWAT-team uit de weg te ruimen. Maar een elite-agent word - of dood - je niet zomaar...
REVIEWS
CoolAwesomeMovies.com: To wrap this up, 'Tactical Force' will satisfy most DTV action aficionados.
TheOtherView.com: a fun flick with loads of action and a few chuckles.
MovieMoxie.blogspot.com: Overall, Tactical Force was tons of fun. The action is great.
Mediamikes.com: it is a strong action film ... packs some decent action and fight scenes.
Bzfilm.com: If you're an action movie fan - watch this.
DOWNLOADS
Je moet ingelogd zijn om deze informatie te bekijken.
.