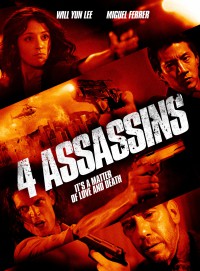 Release:
8 januari 2013

Regie:
Stanley J. Orzel


Cast:
Will Yun Lee (Total Recall, The Wolverine)
Miguel Ferrer (Robocop, Traffic)
Mercedes Renard (Hitch)


Jaar: 2012





A Première TV Distribution Release
SYNOPSIS
In een hotelsuite in Hong Kong draait de reünie van vier huurmoordenaars niet bepaald uit op een gezellig weerzien. Marcus Nang moet zijn drie collega's uitleggen waarom hij zijn laatste opdracht zo verknald heeft. Hij wordt stevig ondervraagd door de mooie Cordelia, zijn ex-vriendin, die hem nog altijd verwenst; de ambitieuze Chase Holmes, een Britse blaaskaak die Marcus zo snel mogelijk uit de weg wil ruimen; en Eli Stoke, zijn vertrouwde mentor, die aanvoelt dat zijn voormalige pupil niet helemaal de waarheid vertelt. Het is een kwestie van liefde of dood, zo blijkt al snel...
REVIEWS
Cooltarget.blogspot.co.uk: works thanks to the likeable cast and stylish production design .. classier than you might first think and it's always good to see Miguel (Robocop) Ferrer getting a nice meaty part.
AWARDS
Action on Film International Film Festival, USA (2011): Best Fight Choreography, Female Action, Male Action.
WorldFest Houston (2011): Gold Award for Best Supporting Actor and Independent Films - Suspense/Thriller.
DOWNLOADS
Je moet ingelogd zijn om deze informatie te bekijken.
.