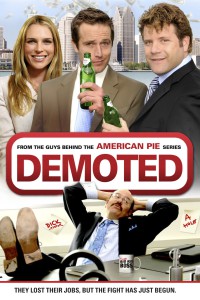 Release:
10 september 2012

Regie:
J.B. Rogers (American Pie 2)


Cast:
Sean Astin (The Lord of the Rings, The Goonies)
Michael Vartan (One Hour Photo, Never Been Kissed)
David Cross (Arrested Development, Modern Family)
Constance Zimmer (Chaos Theory, Damaged Goods)


Genre:
Komedie


Jaar: 2011





A Première TV Distribution Release
SYNOPSIS
Mike en Rodney – vrijbuiters en boezemvrienden – hebben het best naar hun zin als verkopers bij een groot bandenbedrijf. Logisch, als je directeur met plezier een oogje dichtknijpt voor je fratsen. Maar wat als de oude baas onverwachts overlijdt en zijn opvolger het mikpunt van hun grappen en grollen blijkt: Ken Castro? Het vervolg laat zich raden: de wraakzuchtige Castro 'promoveert' zijn kwelduivels weg naar de laagste sport van de bedrijfsladder... de secretaresse afdeling. Daar krijgen de poetsenbakkers een lesje in nederigheid en leren ze het klappen van de zweep kennen. Hilarische werkvloercomedy over rollenpatronen, wraak, weerwraak en Boontjes die om hun loontjes komen...
REVIEWS
MediaMikes.com: The collaborative of Michael Vartan, Sean Astin and David Cross works well and they mesh well. Recommended.
DOWNLOADS
Je moet ingelogd zijn om deze informatie te bekijken.
.