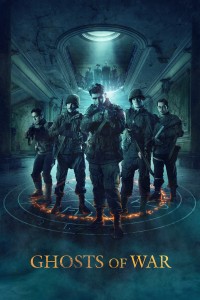 Release:
10 december 2020

Director:
Eric Bress


Cast:
Brenton Thwaites (Pirates of the Caribbean Salazar's Revenge)
Theo Rossi (Sons of Anarchy, Luke Cage)
Kyle Gallner (American Sniper, Jennifer's Body)


Year: 2020





A Première TV Distribution Release
SYNOPSIS
Five American soldiers assigned to hold a French Chateau near the end of World War II. This unexpected respite quickly descends into madness when they encounter a supernatural enemy more terrifying than anything seen on the battlefield.
REVIEWS
Variety.com: This is the rare horror exercise you wish were longer.

RogerEbert.com: One of Bress' greatest strokes comes with casting - he's collected five faces you might recognize from younger, more innocent roles, and who are compelling to see here as men who have matured rapidly due to the wartime experiences eating away at them.

Variety.com: Beautifully atmospheric, handsomely produced.

Culturecrypt.com: Ghosts of War may look like a haunted house yarn dripping with déjà vu from the outside. Inside, there's so much more that makes the movie impressively entertaining. 8/10.

Ukfilmreview.co.uk: Explores the madness that weighs on men who've done the unthinkable by trapping them in a situation where they must face their demons. Kyle Gallner delivers an appropriately haunted performance as one of the soldiers.

Thefilmstage.com: Gallner is especially memorable). It's through these actors that we see how their characters process their pain above and below the façade created and understand why they're incapable of looking beyond their tragic wealth of regret.
DOWNLOADS
You need to be logged in to access this information.
.