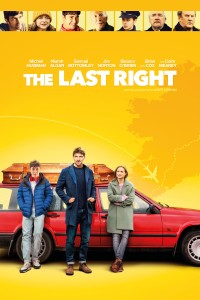 Release:
TBA Q1 2021

Regie:
Aoife Crehan


Cast:
Michiel Huisman (Game of Thrones, The Age of Adaline)
Samuel Bottomley (Ackley Bridge)
Niamh Algar (Raised by Wolves)
Colm Meaney (Law Abiding Citizen, Seberg)
Brian Cox (Churchill, Succession)


Jaar: 2019





A Première TV Distribution Release
SYNOPSIS
De succesvolle advocaat Daniel Murphy (Michiel Huisman) reist vanuit Boston terug naar Ierland voor de begrafenis van zijn moeder. Door een ongelukkige samenloop van omstandigheden krijgt hij niet alleen de verantwoordelijkheid voor zijn autistische broer Louis, maar ook voor het lichaam van de man die naast hem in het vliegtuig zat. Aangespoord door zijn broer Louis en de pittige jonge begrafenisondernemer Mary begint hij aan een doldwaze autorit dwars door Ierland om de onbekende man te kunnen begraven, op de hielen gezeten door de politie (Colm Meany).
The Last Right is een geestige en hartverwarmende roadmovie waarin twee broers, beide met hun eigen gebruiksaanwijzing, nader tot elkaar komen. Met een ecologische verantwoorde kartonnen lijkkist met bloemetjesmotief op het dak.
REVIEWS
Filmireland.net: A thoughtful approach to grief and isolation with sadness and humour that will ultimately offer hope for its characters. It's an unexpected road trip full of heartbreak, humour and human kindness.
TheGuardian.com: Gently heartwarming, this homecoming story about a lawyer and his autistic brother fits like a well-worn onesie.
Irishtimes.com: A likeable salute to a Magic Ireland we don't see much anymore. Lovely performances.
TheTimes.co.uk: Writer-director Aoife Crehan makes a fine — and madcap — debut.
Entertainment.ie: Sweet and earnest in all the right places.
Filmireland.net: Dutch actor Michiel Huisman has a fresh and alluring onscreen presence.
Totallydublin.ie: Hilarious
DOWNLOADS
Je moet ingelogd zijn om deze informatie te bekijken.
.