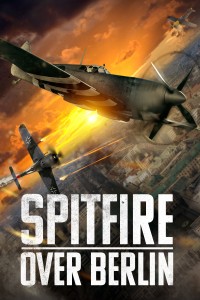 Release:
8 september 2022

Director:
Callum Burn (Lancaster Skies)


Cast:
Kris Saddler (War of the Worlds: The Attack)
David Dobson (The Drift)
Vin Hawke
Callum Burn


Genre:
War


Year: 2022





A Première TV Distribution Release
SYNOPSIS
August 1944. With the American Eighth Air Force poised to strike over Nazi Germany, British Intelligence learns that they could be flying into a deadly trap. With only hours to spare, Flight Lieutenant Edward Barnes must fly a life and death mission over Berlin in his unarmed Spitfire to obtain photographic evidence and save the lives of 1200 Airmen. 
REVIEWS
TheGuardian.com: Spitfire Over Berlin's ambition is laudable, and the flight sequences are precise and technically accomplished.
DOWNLOADS
You need to be logged in to access this information.
.