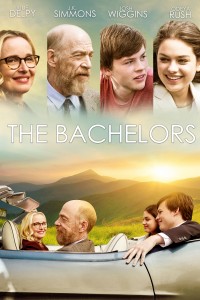 Release:
11 oktober 2018

Regie:
Kurt Voelker


Cast:
J.K. Simmons (Spider-Man, Juno)
Julie Delpy (2 Days In Paris, Before Midnight)
Josh Wiggins (Max, Hellion, Mean Dreams)
Odeya Rush (Goosebumps, The Giver)


Jaar: 2017





A Première TV Distribution Release
SYNOPSIS
Na de dood van zijn vrouw verruilt Bill Ponder (Oscarwinnaar J.K. Simmons – Whiplash, Juno) zijn kleinsteedse omgeving voor de grote stad. Samen met zijn 17-jarige zoon Wes wil hij met een schone lei herbeginnen. Met vallen en opstaan proberen ze hun ontwortelde leven weer op de rails te krijgen. Maar ondanks alle pijn, loert er voor allebei een nieuwe liefde om de hoek. Wes raakt in de ban van Lacy, een introverte, enigmatische meid, en Bill valt voor Carine (Julie Delpy - 2 Days In Paris, Before Midnight), een lerares Frans die haar eigen verleden meetorst. Relaties worden op de proef gesteld, ruzies en verzoeningen volgen elkaar in snel tempo op en gaandeweg ontdekken vader en zoon hun ware ik.
Ontroerende, maar vaak ook onweerstaanbaar grappige, indie over verlies en verwerking, liefde en verzoening, met schitterende vertolkingen van Simmons en Delpy, maar ook van jong talent Josh Wiggins (Max, Hellion, Mean Dreams) en Odeya Rush (Goosebumps, The Giver).
REVIEWS
TheHollyWoodReporter.com: Voelker excels at guiding the cast through some complicated emotional territory and maintains strong arcs for each of the principal characters.
Latimes.com: Deftly balancing humor and grief, "The Bachelors" is fueled by wonderfully human performances and fully realized characters. We can also hope that The Bachelors serves another function as well: to further the careers of its two exceptional young performers: Wiggins and Rush.
Filminquiry.com: A thoughtful, timely gem that normalizes mental health treatment. The Bachelors is a scarcity of a film, one that transcends several genres to create an affecting orotundity through its singular voice.
Blu-ray.com: Voelker doesn't pour on the syrup, creating an approachable but deeply felt picture that's curious about behavior and therapy.
EyeForFilm.co.uk: The Bachelors is just a snapshot of a moment in life, but it's the sort of picture you'd want to keep.
Filmjournal.com: The story is simple, how a father and teenage son cope with the sudden loss of their wife and mother, and the acting is brilliant.
AWARDS
Heartland Film Festival 2017 - Audience Choice Award
San Diego International Film Festival 2017 - Festival Award
DOWNLOADS
Je moet ingelogd zijn om deze informatie te bekijken.
.