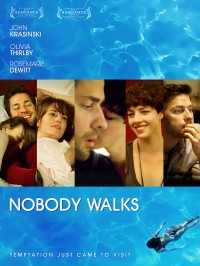 Release:
1 oktober 2013

Regie:
Ry Russo-Young


Cast:
John Krasinski (It's Complicated, The Office)
Olivia Thirlby (Dredd, Being Flynn, No Strings Attached)
Rosemarie DeWitt (The Odd Life of Timothy Green, The Company Men)
India Ennenga (Treme, The Women)
Dylan McDermott (The Practice, Olympus Has Fallen, American Horror Story)
Justin Kirk (Weeds)


Genre:
Drama


Jaar: 2011

A Première TV Distribution Release
SYNOPSIS
De New Yorkse kunstenares Martine arriveert in Los Angeles om aan haar filmproject te werken. Ze kan verblijven in het bijgebouw van de familiewoning van Julie en Peter, vrienden van een vriend. Vanaf het moment dat Martine binnentreedt in het leven van dit ruimdenkende gezin met twee kinderen raakt hun schijnbaar idyllische bestaan uit balans. Pete helpt Martine met de geluidseffecten voor haar film. Hun band wordt steeds hechter en ook buiten het professionele vlak hebben ze een goede klik. Dit drama werd geschreven door Lena Dunham, bedenkster en hoofdrolspeelster van de succesvolle serie 'Girls'.
REVIEWS
Variety.com: A fine cast and [script] give such navel gazing a palatable, commercially viable shape.
DVDTalk.com: Some have complained that Nobody Walks doesn't go anywhere, and it's true that its narrative doesn't follow the expected discovery/blow-up/lesson learned schematic. This is one of its most commendable qualities. Sometimes things happen, and people don't yell and scream and throw things--they deal with them, and then they press on.
Iheartthetalkies.com: A well-crafted drama ... roles are impeccably acted.
DOWNLOADS
Je moet ingelogd zijn om deze informatie te bekijken.
.