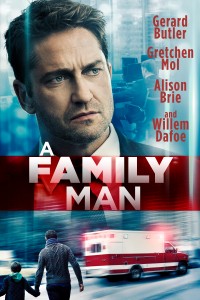 Drama

Beschikbaar voor VOD: 21 september 2017

Regie: Mark Williams

Cast: Gerard Butler (London Has Fallen, 300, The Bounty Hunter), Gretchen Mol (Manchester By The Sea, Boardwalk Empire), Willem Dafoe (The Great Wall, The Grand Budapest Hotel, A Most Wanted Man), Alison Brie (How to Be Single, Mad Men), Alfred Molina (The Da Vinci Code, Prince of Persia)
Dane Jensen (Gerard Butler - London Has Fallen, 300, P.S. I Love You) is een headhunter. Een dealmaker. Een mannetjesputter die het puikje uit de bedrijfswereld ronselt voor een topfirma in Chicago. Wanneer Danes baas (Willem Dafoe - The Great Wall, The Grand Budapest Hotel, Platoon) zijn pensioen aankondigt, speelt hij Dane uit tegen Lynn Wilson (Alison Brie - How to Be Single, Mad Men), zijn ambitieuze tegenpool. Dan ontdekt Dane dat zijn 10-jarige zoontje Ryan aan een levensbedreigende ziekte lijdt. Plots wordt hij verscheurd tussen het bereiken van zijn professionele droom en zijn gezin, dat hem meer dan ooit nodig heeft.
Schitterend geacteerd en meeslepend drama over ambities, familie en het maken van de juiste keuzes, met uitstekende bijrollen van o.m. Gretchen Mol (Manchester By The Sea, Boardwalk Empire) en Alfred Molina (The Da Vinci Code, Prince of Persia).
Reviews
TheHollywoodNews.com: A really rather enjoyable morality tale from debut director Mark Williams, with some brilliant performances and some wonderfully touching moments.
Variety.com: slickly executed.
TIFF.net: The film pulses with the thrill of big money and cutthroat career maneuvering, but its heart is in a very different realm. The film is ultimately concerned with domestic stability in crisis, and with the complex question of what really matters in life. The Headhunter's Calling beautifully illustrates how nearly losing everything can redefine what it means to have it all.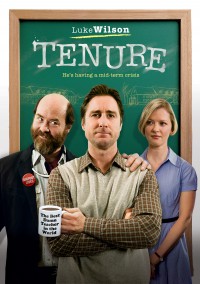 Romantische komedie

Beschikbaar voor VOD: 15 juli 2014

Regie: Mike Million

Cast: David Koechner (Thank You for Smoking, Get Smart, Paul, Anchorman 1 & 2), Gretchen Mol (Manchester By The Sea, Boardwalk Empire), Luke Wilson (Death at a Funeral, Idiocracy, Anchorman 2: The Legend Continues), Sasha Alexander (Tes Man, Rizzoli & Isles, He's Just Not That Into You)
Charlie Thurber (Luke Wilson) doceert Engels aan een universiteit in Pennsylvania. Als leraar is hij best goed, maar als academicus valt hij wat licht uit. En zonder wetenschappelijke publicatie zit een vaste benoeming er niet echt in. Tot overmaat van ramp kondigt de decaan de komst aan van een jonge, veelbelovende assistente uit Yale. Professor Elaine Grasso (Gretchen Moll) is niet alleen mooi, charmant en hoogbegaafd, ze vormt ook een bedreiging voor Charlies carrière. Zijn beste vriend Jay, een antropoloog met een Bigfoot-obsessie, ontvouwt een strategie om haar in diskrediet te brengen. Met frisse tegenzin stapt de radeloze Charlie mee in het plan. Maar er is iets aan Elaine wat hem zwaar aan het twijfelen brengt...
De perfecte academisch-romantische komedie, met verrukkelijke bijrollen voor David Koechner (Anchorman 2, Piranha 3DD), Bob Gunton (24) en Sasha Alexander (Rizzoli & Isles).
Reviews
Filmcriticsunited.com: Tenure' had some really big laughs and a lot more little ones cleverly strewn throughout its all too short running time. A very, very enjoyable movie.
DVDVerdict.com: Tenure's success comes through its wry humor ... the subtle humor is what gets the big laughs. Amusing and occasionally very funny.
Filmintuition.com: A sort of eccentric Office Space for the academic set, Mike Million's beautifully shot film is a tremendous surprise for a straight-to-disc effort in that it had me laughing so hard that my cheeks actually ached afterward.
Screenspotlight.com: The characters (every character) are given brilliant dialogue, they are perfectly cast for their individual roles, and frankly, they are all excellent comedians. I expected another rubbish pile and instead I came upon buried treasure.
DVDManiacs.met: a very serviceable couple's picture without being too romantic, squishy, or causing the eyes to roll back.
Moviemet.com: a respectable first feature film for writer-director Mike Million.
Moviemeter.nl: Schaterlachen zit er niet in, maar regisseur Mike Millon heeft een sympathieke film afgeleverd die vrolijk doet stemmen. Zo'n film waar je een warm gevoel van krijgt zonder dat er overdreven feelgood aan te pas komt. Luke Wilson is prima in de hoofdrol, maar ook de bijrollen zijn sterk bezet. Bob Guntonen en David Koechner zorgen voor een komische noot in dit alternatieve en plezierige schouwspel.
Awards
Washington DC Independent Film Festival 2010 - Audience Award: Best Feature
Washington DC Independent Film Festival 2010 - DC Filmmaker Award