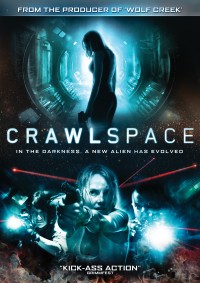 Actie, Horror, SF

Beschikbaar voor VOD: 1 december 2013

Regie: Justin Dix

Cast: Amber Clayton (Blackwood), Peta Sergeant (Iron Sky), Ditch Davey (Spartacus), Eddie Baroo (Australia, Ghost Rider)
Pine Gap, een satellietstation, diep in de Australische woestijn. Een vrouw ontwaakt in het complexe, benauwde gangenstelsel van een ondergronds onderzoeksaboratorium. Ze weet niet wie ze is of hoe ze daar terechtkwam. Alleen dat ze hier zo snel mogelijk weg wil. Buiten het complex landt een peloton Special Ops, elitesoldaten van het Amerikaanse leger, met de opdracht een topgeleerde uit Pine Gap weg te halen. Want het volgstation blijkt slechts een dekmantel voor een sinister wetenschappelijk project. En het resultaat is een vijand waartegen zelfs de meest geharde troepen niet opgewassen zijn. Een tegenstander die inspeelt op je grootste angsten en ergste fobieën... Crawlspace - van de producers van Wolf Creek en Red Hill - is een claustrofobische, bloedstollende thriller die onder je vel kruipt en je nooit meer loslaat...
Reviews
BIFFF Brussel: Crawlspace is een solide brok pretentieloze Australische sciencefiction horror van debutant Justin Dix. Je kan het een kruisbestuiving noemen tussen Aliens en Resident Evil, met een vleugje Scanners en Event Horizon als extra kruiden. Dix, die zijn carrière begon als ontwerper van robotten voor Star Wars II en III, schreef mee aan het scenario en stond in voor de sfeervolle production design. Hiju houdt er flink de vaart in, maar zorgt af en toe voor een pauze tussen de rondvliegende kogels en kinetische salvo's om het mysterie te laten ontrafelen.
Blu-ray.com: A blend of 'Aliens' and 'Scanners,' the feature has confidence and a definite vision for its claustrophobic scares. 'Crawlspace' comes together quite niftily, boosted by fine performances by the entire cast and a focus on disorientation, sustaining the puzzle to the end.
About.com: From the inventive opening title sequence, it's evident that Crawlspace boasts a bold look and strong production value.
Fangoria.com: The action is well-paced under FX artist turned director Justin Dix, the human drama is engaging, the twists are great and the mysteries are ample enough to keep it constantly moving and exciting. It's a well-thought-out flick that breathes new life into a genre the filmmakers obviously love and respect.
Screendaily.com: a solid and exciting bit of genre entertainment that will keep fans happy as it ticks all the right boxes, and certainly punches well above its weight. Keeps things pacy and moody, and while there a few time-outs for the soldiers to catch their breath and engage in some exposition, he smartly favours gunplay and gore over trying to make the standard sci-fi plot stand-up. Crawlspace is a well-made and modestly enjoyable genre number.
Starpulse.com: Enough style and sizzling visuals to put even an attention to detail master like Ridley Scott to shame.
Awards
Screamfest 2012: Festival Trophy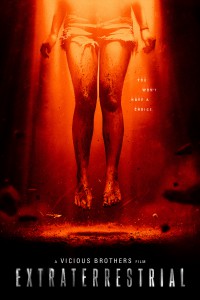 Horror, SF

Beschikbaar voor VOD: 5 oktober 2015

Regie: Colin Minihan

Cast: Brittany Allen (Jigsaw, Bomb Girls, Dead Before Dawn), Freddie Stroma (Pitch Perfect 1 & 2, Harry Potter and the Half-Blood Prince , Harry Potter and the Deathly Hallows), Michael Ironside (X-Men: First Class, Terminator Salvation, Starship Troopers), Gil Bellows (Unthinkable, The Shawshank Redemption, The Weather Man), Melanie Papalia (Smiley, American Pie), Jesse Moss (Final Destination 3, The Big Year)
Omdat April (Emmy-winnares Brittany Allen) worstelt met de scheiding van haar ouders, sleuren haar vrienden haar mee naar het afgelegen boshutje waar ze als kind zoveel mooie zomers doorbracht. Maar wat een gezellig uitje moest worden, neemt een dramatische wending als ze 's nachts iets groots zien neerstorten en ontploffen. Wat ze op de crashsite aantreffen, is echter geen vliegtuig, maar de restanten van iets... buitenaards. In de buurt treffen ze bizarre voetsporen aan die naar het vakantiehuisje leiden. En dat het niet om een snoezige, verdwaalde E.T. gaat, wordt heel snel en heel pijnlijk duidelijk. Van de expliciete beelden van de "Extraterrestrial" experimenten ga je op het puntje van je stoel zitten. En zal je dat meteen bezuren...
Buitenaards bloedstollende gruwelthriller, met een onaards sterke cast: Freddie Stroma (Harry Potter & The Half Blooded Prince, Pitch Perfect), Gil Bellows (The Shawshank Redemption), Jesse Moss (Final Destination 3) en de legendarische Michael Ironside (Terminator Salvation).
Reviews
1nfluxmagazine.com: A film that looks amazing, has excellent performances and is well directed. Because of this gig I see way more films than your average person and yet I have absolutely no problem recommending Extraterrestrial.
Horror.About.com: Once you accept it for what it is, Extraterrestrial is a real hoot, and you can take its silliness, genre clichés and horror movie logic in stride. Good performances all around, with surprising comedic relief from Michael Ironside. Tense but fun and cinematic with moments of humor.
Joblo.com: The Vicious Brothers can craft a nifty suspense scene and they also get a lot of bang for their buck. Brittany Allen impresses as the lead girl, and though his character is often ridiculous, Michael Ironside rises to the occasion with a performance that he obviously had fun with.
Blu-ray.com: Minihan wears his influences on his sleeve ("The X-Files" is a big one, with the feature often resembling a prequel to the hit show), and the picture is shot well by Samy Inayeh, who bathes the frame in red light and dark corners. It's an impressive looking movie, carefully exploring what the aliens are up to with bold light shows. The production also scores with Ironside, who brings thespian authority to the role of a gun-toting recluse who understands that the aliens aren't attacking, they're responding to a broken truce, complicating the situation for our heroes.
Empire.com: The exact midway point between Steven Spielberg and Ed Wood, this a cheerily obvious schlocker.
ScreamHorrorMag.com: Though they can't resist an anal probe sequence they do buck the Hollywood trend and have the confidence to ensure a suitably grim and downbeat ending finishing with a technically excellent final tracking shot enough to show that they've got an assured future in horror.
TheHorrorClub.Blogspot.nl: Extraterrestrial is an intense stalk-and-slash flick. Visually and atmospherically, Extraterrestrial was pretty solid.
UKHorrorScene.com: A slick, well directed alien movie that will enjoyed up by young and old horror genre fans. 8 out of 10.
WeGotThisCovered.com: Extraterrestrial harkens back to a time when sci-fi movies could be both fun and horrific, finding success thanks to the Vicious Brothers' "no holds barred" filmmaking mentality. GOOD.
Filmfracture.com: Extraterrestrial isn't the type of film that is going to give anyone nightmares, but it definitely has its scary moments. It has its share of jump scares, some of them cheap, but all are effective. There's plenty of creepy imagery in the film as well, with the aliens never being far from their prey. Extraterrestrial also features scenes of maddening suspense, especially in the sequences leading up to the actual abductions - there's some real terror there. The most unsettling thing about Extraterrestrial (or any alien abduction movie, for that matter) is the idea of being completely helpless as the aliens do whatever they want to their abductees. The helpless victim theme is more disturbing than any jump scare, and Extraterrestrial plays to that particular fear very well.
BIFFF.net: De thema's van Signs en Steven Spielberg's War Of the Worlds, gemixt met de spanning van een David-Fincher-on-acid, dat geeft ongeveer de sfeer weer van Extraterrestrial. In deze slasher/sci-fi film, zien we hoe mensen ontvoerd worden door aliens en wat ze doormaken wanneer ze terug op aarde zijn. Achter deze scherpe sci-fi thriller zit niemand minder dan de Vicious Brothers. Dit olijke duo maakte furore met Grave Encounters, de grootste tegenhanger van Paranormal Activity zoals de Stones de grootste tegenhanger waren van de Beatles. Met andere woorden mannen met gevoel voor ritme, spanning en de gave van de betere found footage.
Awards
Nocturna Madrid International Fantastic Film Festival 2014 - Nocturna Best FX Award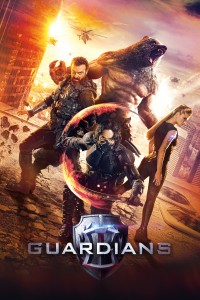 Actie, SF

Beschikbaar voor VOD: 15 juni 2017

Regie: Sarik Andreasyan

Cast: Alina Lanina, Anton Pampushnyy, Sanzhar Madiyev, Sebastien Sisak
Tijdens de Koude Oorlog werd Patriot gevormd, een geheim team van superhelden waarvan het DNA werd gemanipuleerd en verbeterd. De leden kwamen uit verschillende delen van de Sovjet-Unie. Nadat die uiteenviel, keerden ze terug naar hun eigen land. Nu er een nieuwe dreiging is, komen ze weer bij elkaar. Sovjethelden tegen een mutant met klonenleger, in deze Russische versie van X-Men.
Dat Rusland ook op het gebied van filmproductie de strijd met de Amerikanen aangaat is al langer duidelijk. De industrie daar maakt al jaren dure en spectaculaire actiefilms, niet zelden met een patriottische inslag. Guardians is wat dat betreft geen uitzondering - niet alleen heet het geheime team Patriot, door hun verschillende nationaliteiten (Rusland, Oekra?ne, Kazakstan en Armeni?) vertegenwoordigen de vier helden ook het idee van het grote Russische rijk. Het viertal neemt het op tegen de slechterik Kuratov, die beschikt over een exoskelet en een leger van klonen. Spectaculaire actie en bombastische Sovjetretoriek verzekerd!
Reviews
Cinemagazine.nl: Evenwel is dit een interessante film. 'Guardians' hint nadrukkelijk naar de hoogtijdagen van de Sovjet-Unie. Een tijd van voor het uiteenvallen van Groot-Rusland. Toen het land, inclusief de later afvallige staten, nog één geheel vormde. Kortom, een land waar de huidige president Poetin graag van droomt.
Preview Magazine: Als je een beetje van superhelden houdt, dan is dit een geweldige kijkervaring. Wat dacht je van een held met twee kromme messen die supersnel een auto doormidden hakt, een man-beer met een minigun, de knapste vrouw uit Rusland die onzichtbaar kan worden (en ook nog eens goede borsjt kan koken!) en een soort Magneto die geen metaal, maar rotsen kan beïnvloeden (en dat doet met een enorme zweep)? Het levert heerlijke actiescènes op.
ScreenAnarchy.com: The film is a lot of fun indeed. No expense has been spared and there are a number of impressive setpieces, especially when the supervillain starts building a super-antenna in Moscow by stacking several landmark towers on top of each other.