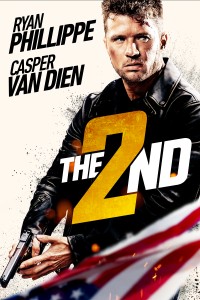 Actie

Beschikbaar voor VOD: 5 november 2020

Regie: Brian Skiba

Cast: Ryan Phillippe (Shooter, The Lincoln Lawyer, Crash), Casper Van Dien (Starship Troopers, The Pact), Jack Griffo (Alexa & Katie), Lexi Simonsen
Een groep radicalen wil een rechtszaak over het Tweede Amendement – het recht op wapenbezit – beïnvloeden door de dochter van een rechter te gijzelen. Maar dat is buiten Vic Davis (Ryan Philippe) gerekend, een geheimagent die zich toevallig op de campus bevindt om zijn zoon op te pikken. Samen nemen ze het op tegen een meedogenloze overmacht...
Reviews
Bulletproofaction.com: The Die Hard game plan is a proven winner, but you still need the players to pull it off and The 2nd had two very capable leads.
Entertainingmovie.com: A political thriller meshed with frenetic action sequences, director Brian Skiba does a great job.  Action fans will likely get a kick out of this one.
Theactionelite.com: The 2nd delivers the action goods with Ryan Philippe making for an effective action star and Casper Van Dien an entertaining antagonist making this a total blast.
Worldfilmgeek.com: The 2nd is a wild action ride that gives us a chance to see what Ryan Phillippe can do in the fight department and it's clear he has the skills.