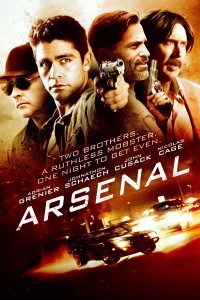 Actie

Beschikbaar voor VOD: 16 maart 2017

Regie: Steven C. Miller

Cast: Nicolas Cage (The Bad Lieutenant, Drive Angry, Leaving Las Vegas, Kick-Ass), John Cusack (2012, Drive Hard, Cell, Hot Tub Time Machine), Adrian Grenier (Entourage, The Devil Wears Prada, Marauders), Lydia Hull (Van Wilder, Escape Plan 2), Johnathon Schaech (That Thing You Do, Marauders, The Prince)
Terwijl JP een succesvol bouwbedrijf runt, heeft zijn broer Mikey zich vastgereden in het zielige leventje van een derderangsgangster en is op de shitlist van de meedogenloze misdaadbaas Eddie King (Nicolas Cage) beland.
Dat loopt uit op een ontvoering, losgeld, en erger. Of voert Mikey iets in zijn schild? JP aarzelt niet en zet alles op het spel om zijn broer te helpen. Samen met hun jeugdvriend en agent Sal (John Cusack) gaat JP de strijd aan met King en zijn legertje trawanten.
Regisseur Steven C. Miller (Submerged, Marauders, Silent Night) maakte van Arsenal een meeslepende actiethriller over schuld, boete en broederliefde, met spetterende actiescènes, sfeervolle grootstadsfotografie en een Cage die op magistrale wijze al zijn acteerduivels ontbindt.
Reviews
Wegotthiscovered.com: The actor gives the kind of performance that awed directors let Brando give at the end of his career: one that's completely OTT.
Omenly.com: Nicolas Cage (Eddie King) throws around his nuttiness and violent yet amusing reactions in a way that keeps the audience interested.
Cutprintfilm.com: Any moment Cage is on screen here becomes hypnotic. You're drawn into every single bizarre choice the actor makes, completely uncertain of what he's going to do next. In one of the film's best scenes, Eddie's brother Buddy (Deadfall director and Cage's real-life brother Christopher Coppola) shows up to reprimand Eddie for his sloppiness. What follows is a slow-motion dance of carnage, with splashes of blood flying up into Cage's glorious mustache.
DallasFilmNow.com: Arsenal frames its relentless beatings doled out by Nicolas Cage against slow-motion effects and a melancholic hymnal of sorts.
Filmschoolrejects.com: Cage is mesmerizing whether he's talking, sobbing, hissing, or ranting - his War of the Gargantuas reference is especially endearing.
Goodefficientbutchery.blogspot.nl: Cage is here to do exactly what you expect him to do: shout, yell, scream, spaz out, and totally Cage it up.
Joblo.com: Cage's whacked-out performance is what makes ARSENAL worth checking out, with him having a blast throughout. He doesn't phone it in at all, and Cage is always fun to watch when he's in gonzo mode.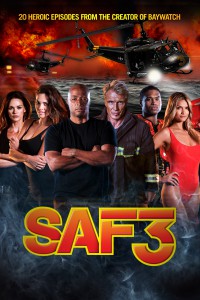 Actie, Drama

Beschikbaar voor VOD: TBA Q3 2014

Cast: Dolph Lundgren (The Expendables 1/2, Universal Soldier, SAF3), J.R. Martinez (All My Children), Texas Battle (The Bold and the Beautiful, Dragonball Evolution, Coach Carter), Lydia Hull (Van Wilder, Escape Plan 2), Jocelyn Oscorio, Travis Burns, Katie Meehan, Danielle Anderson
Te land, te water of in de lucht... wie stuur je op pad als de nood het hoogst is en een redding nagenoeg onmogelijk?
SAF3 is een elite-eenheid die de beste krachten uit de Reddingsdienst, het Brandweerkorps en de Kustwacht van Los Angeles samenbrengt. Deze experts slaan de handen in elkaar om de meest gewaagde reddingsmissies tot een goed einde te brengen.
In elke aflevering staat een grote reddingsactie centraal. Missieleider tegen wil en dank is redder John Mathews, die in tragische omstandigheden de plaats van zijn mentor en vriend Hal Dunnigan moet innemen. SAF3 is Dunnigans concept, een samenwerkingsverband dat de specifieke kennis van elke dienst overstijgt en bundelt. De licht ontvlambare en gedreven karakters zorgen voor spanning en (persoonlijk) drama op het scherp van de snee, want geen enkel lid wil onderdoen voor de rest. Maar als er levens op het spel staan, verhuizen eergevoelens en korpsreputatie naar de achtergrond en vormen ze een reddingsteam zonder weerga...
Schoonheid en gevaar, bedrog en verlossing, spanning en drama... SAF3 heeft het allemaal. Een actie-avonturenreeks van 20 afleveringen in een betoverend kader, in een coproductie van Gregory J. Bonann (de bedenker van Baywatch), en met de legendarische actieheld Dolph Lundgren in een hoofdrol.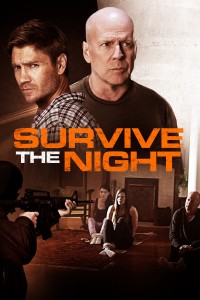 Actie

Beschikbaar voor VOD: 6 augustus 2020

Regie: Matt Eskandari

Cast: Bruce Willis (Die Hard, Red, Sixth Sense, Split), Chad Michael Murray (Left Behind, Riverdale), Lydia Hull (Van Wilder, Escape Plan 2), Shea Buckner (Escape Plan 2 and 3)
Op een afgelegen boerderij gijzelt een nietsontziende overvaller een gezin om een chirurg tot een spoedoperatie op zijn gewonde broer te dwingen. Maar dat is buiten de vader van de chirurg (Bruce Willis) gerekend, een gepensioneerde sheriff die een strijd op leven en dood aanbindt met de criminele broers.
Reviews
Film is nog niet uitgebracht, dus nog geen reviews beschikbaar.