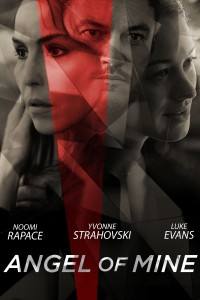 Thriller

Beschikbaar voor VOD: 12 september 2019

Regie: Kim Farrant

Cast: Luke Evans (Fast & Furious 6-8, Ma, Midway), Yvonne Strahovski (Dexter, Killer Elite, The Handmaid's Tale), Noomi Rapace (Millennium 1-3, Prometheus, Bright)
Lizzie worstelt niet alleen met mentale problemen, ze levert ook een bikkelharde strijd om de voogdij over haar zoontje. Alles verdwijnt echter naar het achterplan wanneer ze in de 7-jarige Lola haar overleden dochtertje meent te herkennen. Haar obsessie met het meisje ontaardt in een bloedstollende confrontatie met Lola's echte moeder.
Reviews
RogerEbert.com: Farrant's confidence as a storyteller — along with Rapace's full-bodied performance - enrich the story and guide it toward its delicately bonkers premise.
FilmThreat.com: Angel of Mine is a good movie for fans of the dysfunctional family melodrama. Primarily from the performances from its leads and a strong story that holds together to the end.
Observer.com: The understated direction by Kim Farrant lead you into elements of surprise you do not anticipate as the film detours into a shock ending that will leave you wide-eyed with awe.
Screen International: Its equally challenging and cathartic payoff is worth the journey.
Los Angeles Times: A terrific cast and a rich sense of atmosphere.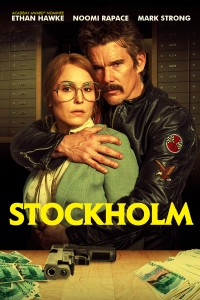 Komedie, Misdaad

Beschikbaar voor VOD: 12 december 2019

Regie: Robert Budreau

Cast: Ethan Hawke (24 Hours to Live, Traing Day, First Reformed), Noomi Rapace (Millennium 1-3, Prometheus, Bright), Mark Strong (Kingsman I & II, Grimsby, Zero Dark Thirty)
Stockholm, 1973. Lars Nystrom overvalt een bank en gijzelt enkele mensen om zijn vriend uit de gevangenis te krijgen. De onderhandelingen lopen echter vast en uren worden al snel dagen, waarin Lars zich ook van zijn zorgzame kant laat zien. Zo ontstaat er een bizarre band tussen gijzelnemer en gijzelaars, met name Bianca, een moeder van twee …
Reviews
Hollywoodreporter.com: His Stockholm, which gently massages actual events to serve as a fine vehicle for Noomi Rapace and Ethan Hawke, is far from the first movie to believably show a crime victim coming to sympathize with a criminal. But it's a funny and agile one, and should work well for art house auds. A tense and sometimes funny exploration of a famous crime.
Slashfilm.com: Ethan Hawke Steals the Show in a a suspenseful, riotous black comedy interlaced with moments of heartfelt emotion. 8/10.
JBSpins: It is a tight, energetic period thriller, helmed with a fair amount of flair by Budreau. Highly recommended.
Solzyatthemovies.com: Led by marvelous performances from Ethan Hawke and Noomi Rapace, Stockholm is a worthy addition to writer-director Robert Budreau's resume.
Moveablefest.com: Budreau crafts "Stockholm" with a reserve and sense of careful composition indicative of the civil veneer that the outlaw so ruthlessly pierces, but the sly fun it has is in line with a film that rewards patience, and although it's an open question whether that approach will pay off for its central antiheroes, it does so in spades for audiences.
Filmthreat.com: Stockholm is a strong case that you can do a lot with the tried-and-true trappings of a genre. Budreau has proved that with his propulsive and engaging film.