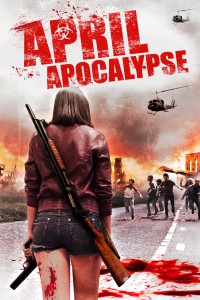 Horror, Komedie

Beschikbaar voor VOD: 6 januari 2015

Regie: Jarret Tarnol

Cast: Reece Thompson (The Perks of Being a Wallflower, Assassination of a High School President, Daydream Nation), Rebekah Brandes (Nothing Left to Fear, Bellflower), Sarah Hyland (Modern Family, Cougars Inc.), Matt Prokop (Cougar Hunting, Furry Vengeance, High School Musical 3: Senior Year), Brent Tarnol (Project X), Matt Shively (Paranormal Activity 4)
Iedereen herinnert zich zijn eerste dolle verliefdheid, zijn eerste kus, zijn eerste liefdesverdriet, zijn eerste... zombieplaag?!?
Nadat hij eindelijk al zijn moed heeft bijeengeraapt om het hart van zijn droommeisje April te veroveren, rijdt Artie (type sukkel) zijn auto in de prak en ontwaakt hij pal in de Zombie Apocalypse. Maar zijn liefde voor April inspireert de loser van weleer tot grootse daden en voor hij het weet, ontpopt Artie zich tot een meedogenloze zombiekiller. Er is maar één probleempje. Artie is zelf gebeten... Kan hij April redden voor hij zelf een breindode zombie wordt?
Reviews
BIFFF.net: You didn't think that with a title like April Apocalypse we would pass by on this zombie feast! Young directing talent Jarret Tarnol (Barrio Tales) sticks to the holy trinity of the genre: gore, sex and fun. And with the lovely Rebekah Brandes (Bellflower) tickling our senses, you'd wish it'd stay April forever!
Listal.com: The ending was incredible and made my jaw hit the floor. What a great little hidden gem of a zombie movie. I really liked it especially due to the ending. I recommend it for any fans of the zombie genre.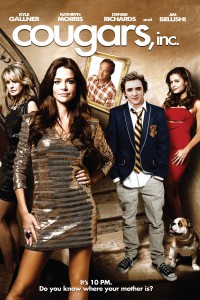 Komedie

Beschikbaar voor VOD: 1 oktober 2011

Regie: K. Asher Levin

Cast: Kyle Gallner (American Sniper, Jennifer's Body), Kathryn Morris (Minority Report), Denise Richards (Starship Troopers), James Belushi (According to Jim, K-9), Sarah Hyland (Modern Family, Cougars Inc.)
Elke kostschool in Amerika heeft de onhandelbare Sam Lowell (Kyle Gallner) al de schoolpoort gewezen. Wanneer de 18-jarige rebel in een prep school met coole klasgenoten en een hippe directeur (James Belushi) belandt, besluit hij zijn leven over een andere boeg te gooien. Maar dan slaat het noodlot toe. Zijn moeder kan het leergeld niet langer betalen en zijn toekomst valt in duigen. Tenzij... Een onenightstand met een oudere vrouw brengt hem op een briljant idee. Samen met zijn vrienden richt Sam Cougars, Inc. op, een escortbureau dat rijpe, eenzame dames – waaronder Denise Richards – op hun wenken bedient. Die hebben wel wat centen over voor wat gestoei met jongemannen. Zijn businessplan blijkt een schot in de roos, een sexy succesverhaal! Maar niet iedereen is in de wolken met Sams bizarre 'bijverdienste'... Cougars, Inc. is een hilarische sekskomedie over groene blaadjes, rode oortjes en onvermijdelijke blauwtjes, de missing link tussen Risky Business en American Pie! Het is tien uur. Weet jij waar je moeder is?
Reviews
DVDmg.com: a decent cast and an interesting twist on its themes.