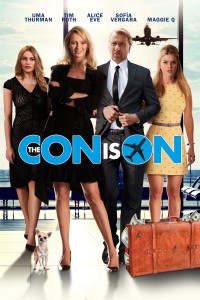 Komedie, Misdaad

Beschikbaar voor VOD: 1 november 2018

Regie: James Oakley

Cast: Uma Thurman (Kill Bill, Pulp Fiction, Percy Jackson & the Olympians), Tim Roth (Reservoir Dogs, The Hateful Eight), Stephen Fry (Gosford Park, V for Vendetta, A Bit of Fry and Laurie), Sofia Vergara (Modern Family, Chef), Maggie Q (Divergent, Nikita, Mission Impossible III ), Alice Eve (Star Trek Into Darkness, Men in Black 3), Parker Posey (For Your Consideration, Superman Returns, The Oh in Ohio)
Harriet (Uma Thurman - Kill Bill, Pulp Fiction) en Peter (Tim Roth – Reservoir Dogs, The Hateful Eight), een Brits oplichterskoppel, zijn ten dode opgeschreven als ze hun gokschulden bij de meedogenloze gangster Irina (Maggie Q - Divergent, Nikita, Mission Impossible III) niet kunnen inlossen. Hun overlevingsmissie voert naar Hollywood, waar ze een juweel van onschatbare waarde willen ontfutselen aan Peters geschifte ex Jackie (Alice Eve - Star Trek Into Darkness, Men in Black 3). Zeggen dat dit niet van een leien dakje loopt, is een understatement. Er is zelfs geen leien dakje...
Liegen, stelen en bedriegen - onze emoties bespelen en de illusie in stand houden, zeg maar - is nu éénmaal waar acteurs crimineel goed in zijn en de sterrencast uit deze lichtvoetige misdaadkomedie trekt alle registers open! U herkent ook nog Parker Posey (Superman Returns), Sofia Vergara (Modern Family) en Stephen Fry (Gosford Park, V for Vendetta).
Reviews
LATimes.com: A stylish caper with enjoyably wry, martini-soaked dialogue and a terrific comedic turn by Uma Thurman as a glamorous British scam artist.
RogerEbert.com: Excellent cast. It's great to see Thurman in a movie star part again.
Flickeringmyth.com: While the characters are all over-the-top caper archetypes, the cast seems to be having the time of their lives. Tim Roth is trying his hardest to beat Gary Oldman's nicotine poisoning in Darkest Hour by drinking ALL the martinis and straight vodkas in the world, to the point where it seems of if he doesn't have a drink in his hand. He also shatters, drops, and otherwise breaks so many glasses I would not be surprised to hear their alcohol and glassware budget was comparable to the cocaine budget in Blues Brothers. Stephen Fry is a delight as usual, and he seems to be amused by all the other characters to really give a damn about the story.
Reeltalkreviews.com: Thurman (Kill Bill) oozes so much glamour playing her morality-challenged character that she holds our interest in all of her scenes. Plus, Maggie Q (Divergent) makes a very relentless villain.
Thatmomentin.com: Good work from Thurman and Roth, who both do well as curiously likable terrible people.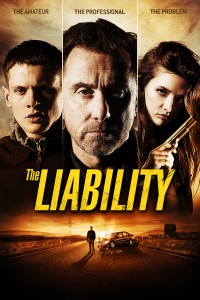 Thriller

Beschikbaar voor VOD: 5 november 2013

Regie: Craig Viveiros

Cast: Tim Roth (Reservoir Dogs, The Hateful Eight), Peter Mullan (Trainspotting, War Horse), Jack O'Connell (Harry Brown), Talulah Riley (Pride & Prejudice, In a World...)
Nadat Adam het pronkstuk uit de autocollectie van zijn stiefvader - een notoire gangster - in de prak heeft gereden, moet hij als boetedoening een klusje uitvoeren. Chauffeur spelen voor huurmoordenaar Roy. Een snelle, eenvoudige opdracht: heen, doelwit uitschakelen in afgelegen bos, terug. Maar terwijl veteraan Roy al van zijn pensioen droomt, ontpopt amateur Adam zich tot een overenthousiaste hitman-in-spe. Helaas is er een getuige van hun afrekening: een mooie, mysterieuze jonge vrouw die hen op heterdaad betrapt en erin slaagt met belastend bewijsmateriaal aan de haal te gaan. Het startschot voor een halsbrekend kat-en-muisspelletje waarbij de verrassende plotwendingen zich vliegensvlug opstapelen... Gitzwarte, gruwelijk grappige Britse misdaadthriller met Tim Roth, Talulah Riley en Jack O'Connell, van de executive producer van Snatch en Lock, Stock & Two Smoking Barrels.
Reviews
BIFFF: Klungelende huurmoordenaars, kleurrijke gangsters, macabere seriemoordenaars en wraakzuchtige femmes fatales zijn de belangrijkste ingrediënten Deze duistere komische thriller kan rekenen op de magnetische vertolking van Tim Roth als uitgebluste huurmoordneaar Roy, Peter Mullan als intimiderende Tony Soprano van dienst en jong talent Jack O'Connell als Adam.
Empire.com: O'Connell and Roth make a brilliant odd couple... gripping adventure.
TheHollywoodReporter.com: A pinch of Sexy Beast, a dash of In Bruges and a dollop of Tarantino... darkly funny.
Britflicks.com: Here is a film that deserves to do well and will surely be watched for years to come in one form or another, highly recommended.
Criticnic.com: it's refreshing to see a hit man movie, or even a crime movie in general, doing something different.
DVDVerdict.com: throwing a hit man and a driver together for a wild ride through twenty-four hours of crime craziness.
Thelairoffilth.com: enjoy the cracking blend of violence and humor.
Movies1.tv: a confidently made and thoroughly engaging thriller that feels both familiar and surprising - a rare feat, smartly executed.
UKScreen.com: an entertaining ride, down to seeing Roth recall to his Pulp Fiction hold-up-in-a-diner routine.
Totalfilm.com: witty, grisly Brit flick ... ingenious plot.
TheHollywoodNews.com: just the right balance of humour and thrills to keep us entertained.
MovieSteve.com: looking great, gnarly, thrillerish.
Cinemasauce.com: The Liability is highly recommended for those looking for something - 'else'.
ViewAuckland.co.nz: an enjoyable British thriller with an engagingly dark streak of humour and likeable performances from O'Connell and Roth. Worth seeing.