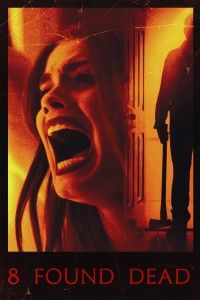 Horror, Thriller

Beschikbaar voor VOD: 12 oktober 2023

Regie: Travis Greene

Cast: Nancy Linehan Charles (Minority Report), Jenny Tran, Tim Simek, Alisha Soper (Lethal Weapon)
Twee bevriende stellen komen apart aan in een afgelegen Airbnb voor een weekendje chillen in de woestijn, maar stuiten op hetzelfde excentrieke koppel, dat de plek al geboekt en ingepalmd heeft.  Wat begint als een misverstand, neemt al snel een bizarre wending. Intussen reppen twee lokale politieagenten zich halsoverkop naar een bloedbad...
8 Found Dead wordt door liefhebbers van de betere horrorthriller unaniem de hel ingeprezen en kaapte op Screamfest LA 2022 de awards voor Beste Film en Beste Regie weg. Totaal terecht. Of zoals één recensent het stelt: Tarantino meets Hitchcock met een vleugje Guy Ritchie.
Reviews
HorrorBuzz.com:  A savagely entertaining movie.
Baintrain08.wixsite.com: 8 Found Dead isn't just one of the best films that I've seen this year, it's one of the best horror films that I've seen ever.
Filmthreat.com: Absolutely, delectably insane, 8 Found Dead is a gripping and aberrant horror getaway.
Horrorfuel.com: Horror films about short-term rental properties are becoming a proper subgenre. 8 Found Dead is a solid, highly entertaining entry into that group.
Awards
Screamfest LA 2022: Winner Best Picture and Best Director