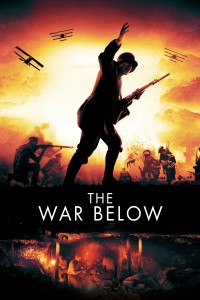 Oorlog

Beschikbaar voor VOD: 9 november 2021

Regie: J.P. Watts

Cast: Sam Hazeldine (The Hitman's Bodyguard), Tom Goodman-Hill (The Imitation Game, Everest), Elliot James Langridge (Twist)
Messines Ridge, nabij Ieper, 1917. Om de patstelling aan het Westelijke Front te doorbreken, graven Britse mijnwerkers tunnels tot onder de Duitse linies, vaak met de blote handen om geen enkel geluid te maken, want de vijand luistert - en graaft - mee. De levensgevaarlijke missie van deze anonieme helden wordt een kantelmoment uit de geschiedenis.

Een interessant artikel over deze slag is te vinden bij de VRT.
Reviews
Filmstories.co.uk: As visually compelling as it is impressive in its character work. Hazeldine's stoic performance is the highlight, but this is a very strong piece across the board which does not deserve to fly under the radar. A quality World War I movie.
Moviesteve.com: Fascinating and true story.
Nerdly.co.uk: A tense, personal edge of your seat story of incredible bravery in times of horror. 5/5 stars.
Outtakemag.co.uk: An admirable job of telling this fascinating tale.
TheGuardian.com: Real-life account of miners recruited in the first world war to burrow beneath German lines is fascinating.
Thetimes.co.uk: A fascinating Great War side story and a gritty central turn from Sam Hazeldine (Peaky Blinders)
Ukfilmreview.co.uk: Great performances and a strong emotional connection to their social and physical plight.