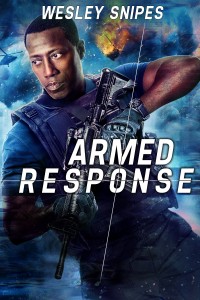 Actie, Thriller

Beschikbaar voor VOD: 7 december 2017

Regie: John Stockwell

Cast: Wesley Snipes (Expendables, Blade, Chi-raq, Brooklyn's Finest), Anne Heche (The Other Guys, John Q), Dave Annable (Brothers & Sisters), Gene Simmons (Expecting Mary)
Een Special Forces-team infiltreert een militaire installatie om de mysterieuze verdwijning van de bewakers te onderzoeken. De faciliteit, die bekend staat als de "Temple" en aangestuurd wordt door kunstmatige intelligentie, dient om staatsgevaarlijke gevangenen te ondervragen. Al snel stuiten ze op de vreselijk verminkte lichamen van hun collega's en een eenzame overlevende, een terrorist. Maar hij is de minste van hun zorgen. Enkele bloedstollende, bovennatuurlijke gebeurtenissen wijzen op iets veel gruwelijkers...
Wesley Snipes (Expendables, Blade, Chi-raq, Brooklyn's Finest) en Anne Heche (The Other Guys, John Q) voeren een team soldaten en wetenschappers aan dat met een onzegbaar duister geheim geconfronteerd wordt in deze effici√ęnte horrorthriller van John Stockwell (In The Blood, Turistas).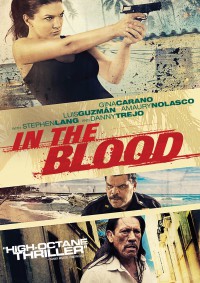 Actie, Misdaad, Thriller

Beschikbaar voor VOD: 18 november 2014

Regie: John Stockwell

Cast: Gina Carano (Deadpool, Haywire, Furious 6), Cam Gigandet (Priest, The Twilight Saga: Breaking Dawn II, Easy A), Stephen Lang (Avatar, Don't Breathe, In The Blood), Luis GuzmŠn (The Last Stand, The Taking of Pelham 1 2 3, Anger Management ), Danny Trejo (Machete, In the Blood), Amaury Nolasco (A Good Day to Die Hard, Transformers, 2 Fast 2 Furious), Ismael Cruz Cordova (White Alligator)
Wat een exotische huwelijksreis in een Cara√Įbisch vakantieparadijs moest worden, ontaardt in een helse nachtmerrie wanneer Ava (Gina Carano) hulpeloos moet toezien hoe haar man Derek (Cam Gigandet, The Twilight Saga: Breaking Dawn II) neerstort en afgevoerd wordt in een "ambulance". Al snel dringt het tot haar door dat ze een pion is in een smerig ontvoeringscomplot en dat de lokale politie haar eerder als een goudzoeker beschouwt dan een radeloze echtgenote.
Maar de mooie Ava is geen katje om zonder handschoenen aan te pakken. Ze grijpt terug naar de dodelijke talenten uit haar schimmige verleden en gaat op eigen houtje op zoek naar haar ontvoerde man. En o wee de misdadigers die haar ook maar één strobreed in de weg leggen... things could get nasty!
Voormalig MMA-kampioene Gina Carano (Haywire, Fast & Furious 6) blaast de mannelijke tegenstand letterlijk en figuurlijk van het scherm in deze spetterende en wurgend spannende actiethriller van John Stockwell (Blue Crush, Turistas). Maar de andere castleden zijn ook geen doetjes, met glansrollen voor Stephen Lang (Avatar), Luis Guzm√°n (The Last Stand), Danny Trejo (Machete, In the Blood), Treat Williams (The Substitute) en Amaury Nolasco (Prison Break, A Good Day to Die Hard).
Reviews
1nfluxmagazine.com: A movie that kept me glued to the screen...and my adrenalin pumping! An exceptional film all around.
Cinema-crazed.com: The excellent Gina Carano takes her shot at her own version of "Breakdown," and "Frantic," with an action thriller that delivers on all fronts. "In the Blood" is a great vehicle for Gina Carano, it's a tense and exciting action thriller I was very much invested in until the very end, and I can't wait to see more from Ms. Carano.
CoolAwesomeMovies.com: The bottom line, that is, why "In the Blood" works is the following: Gina Carano is a good action hero(ine). Gina bring that old-school action vibe to the table.
KungFuCinema.com: Following her debut lead role in HAYWIRE, former mixed martial arts champion Gina Carano proves with this follow-up that she can not only fight, but proves herself to be a good actress.
TheFilmStage.com: This is her Cobra, her Commando, her Double Team 'ÄĒ now she is truly an action star.
DigitalJournal.com: One of the great things about casting Carano in this role is she is believable. As a former mixed martial arts fighter turned actress, she doesn't need to pretend to know what she's doing in a fight because she actually does.
Cooltarget.blogspot.co.uk: It's Carano's relentless mission through the seedier side of the Caribbean that gives the film its momentum and the former fighter turn actress proves again she's got the talent to become a leading female action star.
Cinemadeviant.com: You completely get your money's worth with this one and if you are into action movies or (more importantly) Gina Carano then you WILL NOT be disappointed one bit and I can't wait to see her in more movies like this.
Variety.com: Ava goes full Death Wish. Not just a martial artist, Ava proves proficient in amateur surgery ("Oh, but you can live without your spleen, can't you?).
LATimes.com: Action and thrills are 'In the Blood'.
Examiner.com: [The] star is no shrinking violet unable to fend off her attackers. Instead it's MMA star-turned-movie bad ass Gina Carano, in her first solo lead role since Haywire. When she's doing her thing, namely cracking a few skulls, the film is a fun, gritty throwback. She's not only a physical force of nature, bending her screen foes into pretzels with ease, but she's also quite the beauty and someone who has a natural presence. When Carano is given free reign to break a few bones, you never want to look away. A solid old school action flick.
Theactionelite.com: Overall, In the Blood really showcases Gina Carano's action hero credentials and if you're looking for a movie with some twists and turns, engaging story and plenty of broken bones then you'll have a blast.
7mpictures.com: Fortunately, "In the Blood" is more like the aforementioned "Taken" and less like "Hostel." Still, it's this ripped-from-the-headlines approach to the story that makes it hit home.
ShowBizJunkies.com: The film's well-paced and if you're into reality-driven action scenes, it's one of the better offerings in what's, thus far, been a disappointing year for the genre.
Filmschoolrejects.com: Ava breaks more than a few bones on her way to the truth, and that's where Carano shines.
DVDTalk.com: It's a stalwart reminder of traditional punch-and-kick action flicks standing firm for a tradition of non-CGI stunts.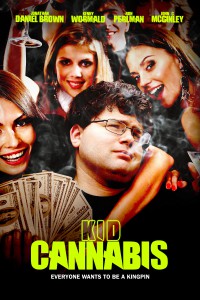 Misdaad, Thriller

Beschikbaar voor VOD: 15 juli 2014

Regie: John Stockwell

Cast: John C. McGinley (Alex Cross, Scrubs), Aaron Yoo (A Nightmare on Elm Street, 10 Years), Kenny Wormald (Clerks II, Footloose, Cavemen), Jonathan Daniel Brown (Project X, Bad Milo!), Ron Perlman (Hellboy, Drive, Fantastic Beasts and Where to Find Them)
Een 18-jarige loser uit Idaho besluit, samen met een 27-jarige vriend, om marihuana de grens met Canada over te smokkelen. Met groot succes, in no-time zijn ze helemaal binnen en zetten ze miljoenen om. Maar zijn pogingen om mee te draaien in de top van de drugswereld - compleet met vrouwen, wapens, onbetrouwbare vrienden en moorddadige drugsbaronnen - stijgt de voormalige pizzabezorger al snel boven het hoofd.
Reviews
NYTimes.com: A rollicking tale of border-running teenage pot entrepreneurs based on the real-life story of Nate Norman. The youthful cast is pretty good and receives a delightful boost from two veteran actors, Ron Perlman as a kingpin who bankrolls the boys, and John C. McGinley as the grower whose product they import.
LATimes.com: How Norman and his gang learn the ropes, work the game and earn their fleeting, if nerve-wracking moment in the sun proves an enjoyable, well-crafted ride in the hands of writer-director John Stockwell.
TheNyewYorkTimes.com: This wild story sells itself
TheDissolve.com: Brown's performance as Norman goes deep enough to penetrate his protective bluster: There's more Max Fischer in him than Tony Montana. He's the reason this convincing pro-legalization editorial is also a memorable coming-of-age story.
SlantMagzine.com: writer-director John Stockwell commits to his hero's unshakable awkwardness, imbuing his character with the sort of half-baked hubris that often accompanies adolescence.
Examiner.com: There are tons of laughs in Kid Cannabis but the style and vision of Stockwell allows this to flourish so much more. The "Gopro" look found on certain parts gave a look to the dark comedy based on films that pushes it to this generation of moviegoers.
Moviemeter.nl: Het op waargebeurde verhalen gebaseerde relaas van een pafferige nerd die zich ontwikkelt tot grootschalig drugsdealer komt namelijk best realistisch over. Bij tijd en wijle neemt men echter toch ietwat bijzondere zijpaden. Zo is het leuk dat buiten de jonge cast veteranen Ron Perlman en John C. McGinley meedoen. Hun personages doen een glimlach oproepen in een niet altijd grappig verhaal.