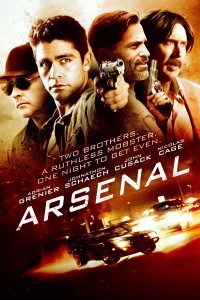 Actie

Beschikbaar voor VOD: 16 maart 2017

Regie: Steven C. Miller

Cast: Nicolas Cage (The Bad Lieutenant, Drive Angry, Leaving Las Vegas, Kick-Ass), John Cusack (2012, Drive Hard, Cell, Hot Tub Time Machine), Adrian Grenier (Entourage, The Devil Wears Prada, Marauders), Lydia Hull (Van Wilder, Empire State, Broken City), Johnathon Schaech (That Thing You Do, Marauders, The Prince)
Terwijl JP een succesvol bouwbedrijf runt, heeft zijn broer Mikey zich vastgereden in het zielige leventje van een derderangsgangster en is op de shitlist van de meedogenloze misdaadbaas Eddie King (Nicolas Cage) beland.
Dat loopt uit op een ontvoering, losgeld, en erger. Of voert Mikey iets in zijn schild? JP aarzelt niet en zet alles op het spel om zijn broer te helpen. Samen met hun jeugdvriend en agent Sal (John Cusack) gaat JP de strijd aan met King en zijn legertje trawanten.
Regisseur Steven C. Miller (Submerged, Marauders, Silent Night) maakte van Arsenal een meeslepende actiethriller over schuld, boete en broederliefde, met spetterende actiescènes, sfeervolle grootstadsfotografie en een Cage die op magistrale wijze al zijn acteerduivels ontbindt.
Reviews
Wegotthiscovered.com: The actor gives the kind of performance that awed directors let Brando give at the end of his career: one that's completely OTT.
Omenly.com: Nicolas Cage (Eddie King) throws around his nuttiness and violent yet amusing reactions in a way that keeps the audience interested.
Cutprintfilm.com: Any moment Cage is on screen here becomes hypnotic. You're drawn into every single bizarre choice the actor makes, completely uncertain of what he's going to do next. In one of the film's best scenes, Eddie's brother Buddy (Deadfall director and Cage's real-life brother Christopher Coppola) shows up to reprimand Eddie for his sloppiness. What follows is a slow-motion dance of carnage, with splashes of blood flying up into Cage's glorious mustache.
DallasFilmNow.com: Arsenal frames its relentless beatings doled out by Nicolas Cage against slow-motion effects and a melancholic hymnal of sorts.
Filmschoolrejects.com: Cage is mesmerizing whether he's talking, sobbing, hissing, or ranting - his War of the Gargantuas reference is especially endearing.
Goodefficientbutchery.blogspot.nl: Cage is here to do exactly what you expect him to do: shout, yell, scream, spaz out, and totally Cage it up.
Joblo.com: Cage's whacked-out performance is what makes ARSENAL worth checking out, with him having a blast throughout. He doesn't phone it in at all, and Cage is always fun to watch when he's in gonzo mode.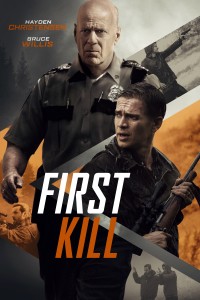 Actie, Thriller

Beschikbaar voor VOD: 5 oktober 2017

Regie: Steven C. Miller

Cast: Bruce Willis (Die Hard, Red, Sixth Sense, Split), Hayden Christensen (Star Wars: Episode II, III, Jumper), Gethin Anthony (Game of Thrones), Megan Leonard (The Life and Death of John Gotti)
Succesrijk zakenman Will Beamon (Hayden Christensen - Star Wars: Episode II, III, Jumper), ontdekt dat zijn zoontje Danny (Ty Shelton) op school gepest wordt. Hij besluit de band met zijn zoon weer wat aan te halen door hem in te wijden in de jacht, net zoals zijn vader ooit met hem deed. In het bos raken ze echter ongewild betrokken bij de nasleep van een mislukte bankoverval, waarbij een corrupte agent het leven laat. Will moet machteloos toekijken hoe Danny ontvoerd wordt. Als hij hem levend wil weerzien, moet hij de verstopte buit ophalen en het onderzoek van de politie saboteren. Maar de plaatselijke politiechef (Bruce Willis - Die Hard, Red, Sixth Sense, Split) laat zich niet zomaar om de tuin leiden...
Regisseur Steven C. Miller (Silent Night, Extraction) levert andermaal een stevige thriller af waarin keiharde actie en wurgende suspens elkaar naadloos afwisselen. Het vader-zoonthema loopt als een bloedrode draad door First Kill. Naast ouwe rot Willis maken ook Gethin Anthony (Game of Thrones) en Megan Leonard (The Life and Death of John Gotti) hun opwachting.
Reviews
Chicago.suntimes.com: The blood-soaked potboiler First Kill is Generous Pour through and through, from Bruce Willis playing a cop for the umpteenth time in his career to the old switcheroo we can see coming a mile away to the pounding and overwrought score to some genuinely effective detours and subplots.
Variety.com: A reasonably entertaining series of off-road chases and backwoods shootouts en route to that final confrontation.
LATimes.com: First Kill features an efficient, lightning speed plot.
Maddwolf.com: Willis supplies his natural gravitas and Ohioan Shelton makes an impressive big screen debut. As young Danny, Shelton's easy rapport with Gethin Anthony (as kidnapper Levi) is a constant highlight.
Thatmomentin.com: A decent crime thriller.
Dallasfilmnow.com: First Kill is competent and involving. The action scenes — including one vehicle/RV chase that's constructed cleverly with an uninterrupted sense of place via gliding tracking shots — never feel unrealistic or exaggerated. And even though the film telegraphs a few of its third act character reversals, Miller and screenwriter Nick Gordon plumb the depths of innocence versus malignancy with a shrewd eye for satisfying entertainment.
TheIndependentCritic.com: fully devoted to telling a story and telling it well.