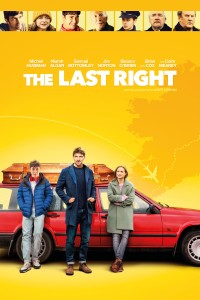 Drama, Komedie

Beschikbaar voor VOD: 25 februari 2021

Regie: Aoife Crehan

Cast: Michiel Huisman (Game of Thrones, The Age of Adaline), Samuel Bottomley (Ackley Bridge), Niamh Algar (Raised by Wolves), Colm Meaney (Law Abiding Citizen, Seberg), Brian Cox (Churchill, Succession)
De succesvolle advocaat Daniel Murphy (Michiel Huisman) reist vanuit Boston terug naar Ierland voor de begrafenis van zijn moeder. Door een ongelukkige samenloop van omstandigheden krijgt hij niet alleen de verantwoordelijkheid voor zijn autistische broer Louis, maar ook voor het lichaam van de man die naast hem in het vliegtuig zat. Aangespoord door zijn broer Louis en de pittige jonge begrafenisondernemer Mary begint hij aan een doldwaze autorit dwars door Ierland om de onbekende man te kunnen begraven, op de hielen gezeten door de politie (Colm Meany).
The Last Right is een geestige en hartverwarmende roadmovie waarin twee broers, beide met hun eigen gebruiksaanwijzing, nader tot elkaar komen. Met een ecologische verantwoorde kartonnen lijkkist met bloemetjesmotief op het dak.
Reviews
Indebioscoop.com: de kijker valt vanaf minuut één in de film. Gecombineerd met het lichte en vaak humoristische verhaal kunnen we The Last Right typeren als de lightversie van Rain Man. 4 sterren.
Telegraaf.nl: een prachtig groen land met 'good craic, het Ierse equivalent van gezelligheid.
Cinemagazine.nl: The Last Right biedt een fijne, warme ontsnapping aan het dagelijks leven.
Filmtotaal.nl: Crehan levert een vermakelijk speelfilmdebuut met een hoog feelgoodgehalte.
Volkskrant.nl: Michiel Huisman doet het uitstekend als Amerikaanse Ier in de gemoedelijke roadmovie The Last Right.
Trouw.nl: Een warme film met een simpele boodschap: wees vriendelijk, ook voor vreemden. Prima acteurs en liefdevolle blikken op Ierland.
AD.nl: De film weet een fijne sfeer neer te zetten, met behulp van droogkomische, typische humor en aaibare Ieren in minirolletjes.
NRC.nl: kruist het genre van de roadmovie met elementen uit de romantische komedie. Het resultaat is plezierig.
Parool.nl: Een verademing, zo zou je het sympathieke The Last Right kunnen omschrijven in deze barre tijden.
Filmireland.net: A thoughtful approach to grief and isolation with sadness and humour that will ultimately offer hope for its characters. It's an unexpected road trip full of heartbreak, humour and human kindness.
TheGuardian.com: Gently heartwarming, this homecoming story about a lawyer and his autistic brother fits like a well-worn onesie.
Irishtimes.com: A likeable salute to a Magic Ireland we don't see much anymore. Lovely performances.
TheTimes.co.uk: Writer-director Aoife Crehan makes a fine — and madcap — debut.
Entertainment.ie: Sweet and earnest in all the right places.
Filmireland.net: Dutch actor Michiel Huisman has a fresh and alluring onscreen presence.
Totallydublin.ie: Hilarious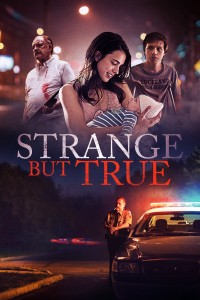 Thriller

Beschikbaar voor VOD: 7 mei 2020

Regie: Rowan Athale

Cast: Margaret Qualley (Seberg, Once Upon A Time In Hollywood), Nick Robinson (Love Simon, Jurassic World), Brian Cox (Churchill, Succession), Amy Ryan (Gone Baby Gone, Beautiful Boy), Greg Kinnear (House of Cards, Anchorman 2 - The Legend Continues)
Tijdens de avond van het schoolbal sterft Ronnie Chase op tragische wijze, terwijl zijn vriendin Melissa overleeft. Vijf jaar later arriveert Melissa op de stoep van de familie van Ronnie. Ze vertelt hen dat ze zwanger is van hem. Ondanks dat de familie sceptisch is, proberen ze haar gelijk te bewijzen. Ze komen er echter achter dat de werkelijkheid veel angstaanjagender is dan ze zich hadden voorgesteld.
Reviews
HollywoodReporter.com: An atmospheric thriller with a noir-ish undertow and strong visual style, Strange But True puts a classy spin on familiar ingredients. The twist-heavy, logic-bending plot will test audience patience in places, but the whole package is handsomely crafted and rich in strong performances from a seasoned ensemble cast led by Amy Ryan, Brian Cox, Blythe Danner and Greg Kinnear.
NYTimes.com: The tale is a jolting one, and the superb players do justice to the emotional distress of its characters. But a surer directorial hand might have yielded a more resonant experience.
RogerEbert.com: It's a pleasure to watch a movie that's told in complete, self-contained scenes with beginnings, middles and ends, and that doesn't lean on constant editorializing music and exposition dumps to create the illusion of excitement. Athale and Garcia are going for a lean-and-mean approach, and it works well.
Bloody-flicks.co.uk: The starry cast is all excellent, as you would expect from such a lineup, but special mention should go to Amy Ryan who conveys Charlene's anger and grief with absolute conviction. This is first-rate stuff, and well worth 90 minutes of anyone's time.
Doblu.com: Strange But True provides a provocative examination of coping with grief and loss, only to evolve into a surprisingly taut psychological thriller. Rowan Athale's movie is cleverly sad and haunting with a capable cast.
Eyeforfilm.co.uk: As the film digs into psychological stress, Athale crafts the sharp, unspoken parts of grief into shards that cut at his characters.
Filmintuition.com: Serving its phenomenal cast well as a strong dramatic showcase for the actors involved, Strange But True is anchored by that fiery trio and provides proof once again (and after the recent Once Upon a Time in Hollywood) that Andie MacDowell's daughter Margaret Qualley is the real deal.
Screendaily.com: Athale flirts with the visual language of horror even before the story takes a swerve into darker territory. A creepily photographed basement, the location of Blythe Danner's laundry facilities, suggests that something malevolent is about to emerge into the story. And so it does – a truth so repulsive that it rapidly accrues a body count is launched into the action.
Nycmovieguru.com: a taut, provocative and moving psychological thriller.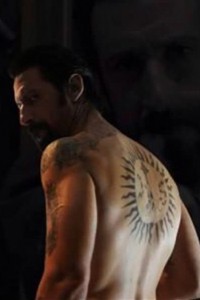 Actie, Thriller

Beschikbaar voor VOD: 9 juni 2022

Regie: Alfonso Pineda Ulloa

Cast: Ron Perlman (Hellboy, Drive, Fantastic Beasts and Where to Find Them), Brian Cox (Churchill, Succession), Tim Roth (Reservoir Dogs, The Hateful Eight), Paz Vega (Rambo Last Blood, Kill the Messenger), Neal McDonough (Minority Report, The 100), Jose Maria Yazpik
Nederlandse synopsis volgt z.s.m.
A man nicknamed "The Jesuit", is imprisoned for a crime he didn't commit. When his wife is murdered an this son kidnapped and taken to Mexico, he devices an elaborate and dangerous plan to rescue his son and avenge the murder.
Reviews
Film is nog niet uitgebracht, nog geen reviews beschikbaar.