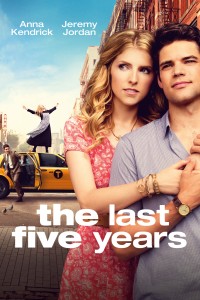 Drama, Musical, Romantic Comedy

Available on VOD: 2 november 2015

Director: Richard LaGravenese

Cast: Anna Kendrick (Twilight Saga, Pitch Perfect 1 & 2, Up in the Air, Into the Woods, 50/50), Jeremy Jordan (Smash, Joyful Noise), Bettina Bresnan (Vamps), Charly Bivona (Cymbeline)
Cathy and Jamie's five-year relationship is full of passion and heartache. As novelist Jamie is propelled to the top of the New York literary scene, Cathy struggles in low paid acting jobs, and their diverging careers prove too much for their young love to handle.
PITCH PERFECT's Anna Kendrick (Academy-Award® nominee) stars alongside Jeremy Jordan (Tony-Award® nominee) in this highly anticipated adaptation of Jason Robert Brown's award-winning musical from the director of P.S. I LOVE YOU. A cult phenomenon in the musical theatre world, the film remains true to the original production, with spellbinding performances, an incredible pop music soundtrack and a unique storytelling technique. It will have you captivated from start to finish and back again.
Reviews
Variety.com: It's easy to fall in love with Anna Kendrick and Jeremy Jordan in this heart-breaking musical two-hander, as they retrace a love affair from opposite ends. It's he sang/she sang as a Gotham couple moving in opposite directions lead us through half a decade of ups and downs in "The Last 5 Years," Jason Robert Brown's beautifully written Off Broadway tuner. Two terrific lead performers — and what a pair they make!
Cinemagazine.nl: Kendrick en de liedjes houden 'The Last Five Years' met gemak overeind.
Redeyechicago.com: Instantly enjoyable and eventually crushing, "The Last Five Years" is a musical for people (like me) who can't stand musicals but are open to ones that are intimate, smart and surprising rather than loud, overdone and obvious. It's remarkably perceptive about love and commitment, anchored by two stars who only make the excellent songs better. Shockingly good.
New York Magazine: The camera moves with heightened sensitivity, as if on currents of emotion, and Kendrick is infinitely winning. She's that rare thing, a movie star with a trained soprano.
NYPost.com: A great showcase for Kendrick. So utterly wonderful that this adaptation of an off-Broadway musical deserves better than a token theatrical release to support its distribution via video-on-demand.
Avclub.com: The Last Five Years provides Anna Kendrick the musical showcase she deserves.
VillageVoice.com: The words are sharp, the melodies memorable, and the performances a beauty. This Last Five Years might not have the penetrating clarity of Brown's original show, but it offers miles and piles of compensation.
Filmfracture.com: As far as Hollywood musicals go, they don't get much better than The Last Five Years. Those who don't mind most of the story being told through song will enjoy it thoroughly. The Last Five Years is a unique romance movie for the jaded and heartbroken as well as the hopelessly in love.
Slantmagazine.com: Whether wryly funny, annotating Jamie's rendition of "The Schmuel Song" with snide remarks, or stirring, as in the lovely "Still Hurting," Kendrick manages to convey both the nostalgic and the regretful notes.
TheIndepoendentCritic.com: While Kendrick nails the vocals, she's also got a strong cinematic sensibility about her and understands how to make it all work on the big screen. Kendrick infuses Cathy with all the heart and soul and remorse and regret that we'd hope for.
Reelfilm.com: Kendrick delivering a knockout performance that's made all-the-more-impressive by the realization that she sings almost all of her dialogue.
Blu-ray.com: Anna Kendrick and Jeremy Jordan share a closely-knit chemistry in the film. She's particularly strong, capable of displaying a broad range of emotion not only through her lyrical vocalizations but in the eyes that, scene to scene and moment to moment, convey her feelings as strongly as, if not more deeply than, the lyrics. Whether deep, loving affection; unbridled passion; growing unease and discomfort; anger and resentment; or unhinged sorrow; she delivers a fully capable, emotive, and nuanced effort as a person who, in the span of five years, journeys through a familiar arc of high spirits brought by love but slowly pushed down to the lowest feelings of despair.
Examiner.com: At its heart, the film is a pure and true love story, all involved give everything to make it a success.