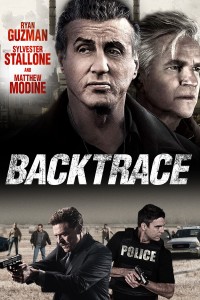 Actie, Misdaad

Beschikbaar voor VOD: 9 mei 2019

Regie: Brian A Miller

Cast: Sylvester Stallone (Expendables, Rambo, Creed), Matthew Modine (Sicario: Day of the Soldado, Full Metal Jacket, The Dark Knight Rises), Ryan Guzman (Step Up 4 Miami Heat, Pretty Little Liars), Colin Egglesfield (Something Borrowed, The Client List, All My Children), Meadow Williams (Den of Thieves)
Een bankoverval ontspoort, met meerdere doden tot gevolg. De overlevende bankrover herinnert zich niets meer. Tot hij kan ontsnappen en een serum krijgt om de buit terug te vinden. Opgejaagd door een plaatselijke politieman en een FBI-agent, probeert hij zich alles te herinneren voor een schaduw uit zijn verleden hém wist.
Reviews
Backtothemovies.com: Sly shines in this compelling flick. Backtrace stands above most of the straight to VOD actioneers with a compelling turn by Matthew Modine with a foundation of Sylvester Stallone's on-screen gravitas.
Blazingminds.co.uk: a movie that had me glued to from start to finish, with it opening with all guns blasting with Mathew Modine in a shootout when a heist goes wrong and then moving along with the introduction of Stallone character with the heart-pounding opening soundtrack.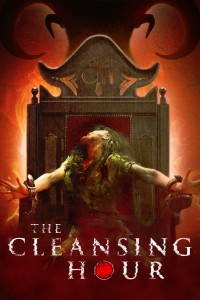 Horror

Beschikbaar voor VOD: 2 april 2020

Regie: Damien LeVeck

Cast: Kyle Gallner (American Sniper, Jennifer's Body), Ryan Guzman (Step Up 4 Miami Heat, Pretty Little Liars), Alix Angelis (The Magnificent Seven), Emma Holzer (Boardwalk Empire, Spring Breakers)
Twee jonge ondernemers boren een online goudmijn aan met The Cleansing Hour, een huiveringwekkende webcast met live exorcismes. Miljoenen kijkers wereldwijd hebben er geen benul van dat het allemaal fake is. Tot op een dag een actrice op de set verschijnt die écht bezeten blijkt te zijn. Een vlijmscherpe satire op social media en onze digitale demonen.
Reviews
Moviemeter.nl: Hapt qua energie en lol lekker weg. Lees de hele review hier.
Fantasticfest.com: a rollercoaster of a horror film, with clearly defined rules, wicked CGI, practical effects, and thrilling performances from its talented cast. Strap yourself in, grab your prayer towel, and get ready to save the souls of the Reverend Max, Drew, and Lane!
Butwhythopodcast.com: "The Cleansing Hour" is Possession Horror Gold, a film that hits so hard and unexpectedly that it makes you push back in your seat. As you watch the narrative twist like a possessed girl's body it engages you with superb creature designs and practical effects while making you laugh with its dark humor that puts a mirror up to how we all behave online.
Birthmoviesdeath.com: The script is fresh, and everything wrapped together resulted in a genuinely fun take on exorcism and possession in the digital age. Fear Dot Com meets the snark of a Supernatural demon. It plays it straight and has a hell of a lot of fun while doing it.
Adventuresinpoortaste.com: Great practical effects, wonderful chemistry between the actors, and some clever social commentary seem to set apart from other horror movies.
Morbidlybeautiful.com: A creative and humorous exploration into the weird world of social media and exorcisms. The satire of religion might turn off a few folks. But the creature from hell here is quite the bad-ass, and I'm sure horror fans will love him. Forget your Ouija board, you can find a real demon online in The Cleansing Hour.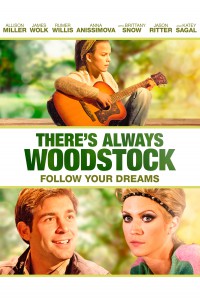 Komedie, Romantische komedie

Beschikbaar voor VOD: 17 augustus 2015

Regie: Rita Merson

Cast: Ryan Guzman (Step Up 4 Miami Heat, Pretty Little Liars), Katey Sagal (Married With Children, Sons of Anarchy), Brittany Snow (Pitch Perfect, John Tucker Must Die), Allison Miller (17 Again, Terra Nova), Jason Ritter (Parenthood), Rumer Willis (90210)
Catherine Brown (Allison Miller - 17 Again, Terra Nova) raakt op één dag tijd haar rotbaantje bij een New Yorks platenlabel kwijt en betrapt haar verloofde met een andere vrouw. Ze besluit haar verlovingsring te verkopen en naar haar ouderlijke huis in Woodstock te verkassen, om er tot rust te komen en aan haar eigen muzikale droom te werken. Maar haar terugkeer blijkt bitterzoet. Ze is sinds de dood van haar ouders, toen ze 4 was, niet meer terug geweest en al snel zit ze op alle vlakken muurvast. Pas na een gênante kennismaking met Noah, de charmante dorpsarts, begint ze weer open te bloeien. Maar dan komt haar ex roet in het eten gooien en begint haar oude label met lucratieve contracten te zwaaien. Maakt ze eindelijk de juiste keuzes?
Romantische komedie met een daverende soundtrack en puike vertolkingen van Ryan Guzman (Step Up 4), Katey Sagal (Married With Children, Sons of Anarchy), Brittany Snow (Pitch Perfect), Jason Ritter (Parenthood) en Rumer Willis (90210).
Reviews
Village Voice: The rom-com elements don't always work, and the conclusion is a bit pat, but Always Woodstock is never less than charming and funny along the way.