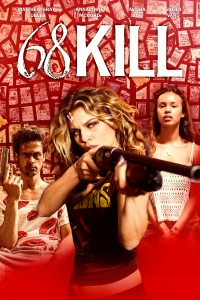 Action, Comedy, Crime

Available on VOD: 10 januari 2019

Director: Trent Haaga

Cast: Matthew Gray Gubler (Criminal Minds, (500) Days of Summer), AnnaLynne McCord (90210, Officer Down, Scorned), Alisha Boe (13 Reasons Why), Sheila Vand (Argo)
Scraping by flushing septic systems is not his vision of a perfect life, but Chip (Gubler) is a simple guy and he's got a great girlfriend in Liza (McCord). Sure, she supplements their income with a sugar daddy, but every relationship has its own complexities. When she suggests that they relieve her sleazy benefactor of a stack of cash, Chip begins to see a side of her he never knew existed…or never wanted to admit. Now he's got a gun in his hand, a girl in his trunk and less than 24 hours to figure his way out of this mess.
Reviews
Variety.com: A zesty black comedy whose nebbish hero gets subjected to a prolonged ordeal of painful misfortunes. viewers and programmers with a taste for midnight-movie outrageousness will cotton to its mix of sleaze, quease and bad-taste absurdism.
Bloody-disgusting.com: For those seeking a viciously violent, amazingly cast and hilarious thriller, 68 Kill delivers on levels that few recent efforts have. This film's singular vision of the dark side is brutally entertaining. Its idea of gender and masculinity are more old-fashioned than they need to be, but that doesn't stop the female leads from giving balls-to-the-wall incredible performances. For this alone, this one is worth watching. This brand of insanity doesn't come along often.
Wegotthiscovered.com: This wacky gender standoff rocks and rolls as a late-night siren should. Haaga is back, funny and fucked-up as ever. 68 Kills feels like a short Tarantino story; a bloody late-nighter that features an unstoppable genre role for AnnaLynne McCord.
Dailydead.com: Charm-Filled, Southern-Fried Caper, a wickedly fun heist movie that subverts genre fan's expectations by playing around with gender conventions, delivering several impressive storytelling swerves that genuinely kept me guessing up until the very end.
Filmthrills.com: Part of the beauty of 68 Kill stems from Haaga reversing the gender dynamics we're used to seeing in this kind of uber violent, modern noir film. Not only Chip is the one in consistent need of rescue by one of the women in his life, but he's often reduced to cringing and whimpering mess. With 68 Kill, Haaga delivers a crowd pleasing, high octane thriller that is well worth your time and energy.
iHorror.com: Trent Haaga's "68 Kill" is a Bloody Masterpiece of Feminism, Anti-Stereotypes and Dark Humor.
ScreamHorrormag.com: Leaves us with virtually nowhere to hide from its bawdiness, frenzied brutality and kinky, kooky humour; all buoyed by a totally talented, committed and game cast.
Talkfilmsociety.com: Takes the audience along through a number of wild scenarios, adorned with a series of dimensionalized, grounded characters. While a number of them are deranged psychotics (for lack of a better word), they always capture your attention, and make you wonder just where the story is going to go next. 68 Kill comes well recommended.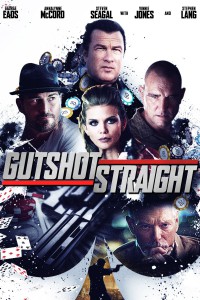 Action, Thriller

Available on VOD: 13 april 2015

Director: Justin Steele

Cast: George Eads (CSI), AnnaLynne McCord (90210, Officer Down, Scorned), Stephen Lang (Avatar, Don't Breathe, In The Blood), Ted Levine (Shutter Island, The Silence of the Lambs, American Gangster, The Bridge), Steven Seagal (Under Siege, A Dangerous Man, Executive Decision), Vinnie Jones (Snatch, Hijacked, X-Men: The Last Stand), Tia Carrere (True Lies), Fiona Dourif (The Messenger, The Master)
A professional poker player, Jack Daniel (George Eads), gets mixed up with the underworld when he takes a wager proposed by Duffy (Stephen Lang), a mysterious gambler. In order to protect his family and himself, Jack must outwit Duffy's cunning brother Lewis (Ted Levine) and scheming wife May (AnnaLynne McCord) as each attempts to force him into murdering the other. Seeking help anywhere he can find it, Jack turns to Paulie Trunks (Steven Seagal), a loan shark looking to collect on Jack's poker debts, who might want to protect his investment.
Reviews
Flickeringmyth.com: The film looks great with some slick and colourful visuals, the acting is pretty good and the story set-up is fantastic and really draws you in.
Goodefficientbutchery.blogspot.nl: Seagal gets a terrific monologue about why he's called "Paulie Trunks" and has a few genuinely funny, possibly ad-libbed lines and he makes every moment count. Gutshot Straight has a lot of positives in its favor.
Devon-cornwall-film.co.uk: A nifty little B-movie neo-noir. He may be one of the least showy CSI cast members, but blank canvas George Eads is a surprisingly effective noir antihero, and shoulders the double-crossing narrative convincingly. Admittedly, the pace does slacken in the second half of the film, but Gutshot has enough worthwhile moments to keep you interested. Inessential, but strangely appealing.