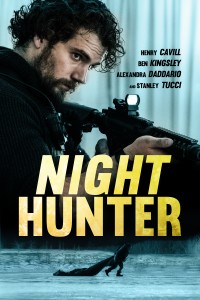 Crime, Thriller

Available on VOD: 2 januari 2020

Director: David Raymond

Cast: Henry Cavill (Mission: Impossible - Fallout, Man of Steel), Ben Kingsley (Gandhi, Shutter Island, Operation Finale), Alexandra Daddario (San Andreas, Percy Jackson, Baywatch), Brendan Fletcher (RV, Arrow), Stanley Tucci (Big Night, Spotlight, A Private War), Minka Kelly (Titans, (500) Days of Summer)
When police trap online predator Simon Stulls, they soon realize that the extent of his crimes go far beyond that of his own psychological trauma. Nothing quite makes sense, that is until people involved in the case, on both sides of the law, start getting murdered...
Reviews
Filmliefhebber.com: Night Hunter is dan ook zeker een kijkbeurt waard.
NWTV.nl: Een sterke politiethriller met uitstekend acteerwerk en een verrassend plot.
Moviemeter.nl: Het speelfilmdebuut van David Raymond mag er wezen. Op een paar schoonheidsfoutjes na weet hij een degelijke thriller neer te zetten, die af en toe zelfs doet denken aan genregenoot Se7en en aanverwanten. Ondanks dat veel enigszins bekend aandoet, wordt je als kijker toch een paar keer op het verkeerde been gezet.
Backseatmafia.com: Night Hunter is an entertaining ride into dark heart of evil.
Empire.com: promising ideas and an impressive cast.
Nytimes.com: Fletcher's slobbering performance has to be seen to be believed.
Hollywoodreporter.com:  Fletcher provides an intensely focused performance as the mentally and emotionally debilitated suspect.
Radiotimes.com: Kingsley provides gravitas and even a few chills as the vigilante, particularly when he's meting out his own excruciating brand of justice.
JBSpins.blogspot.com: Succeeds quite nicely as a work of dark suspense. Recommended for fans of psycho-killer thrillers.