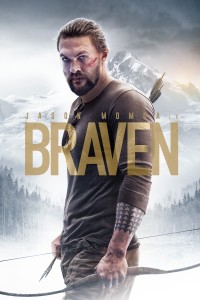 Action, Thriller

Available on VOD: 8 maart 2018

Director: Lin Oeding

Cast: Jason Momoa (Justice League, Aquaman, Game of Thrones, Batman v Superman: Dawn of Justice), Stephen Lang (Avatar, Don't Breathe, In The Blood), Garret Dillahunt (No Country for Old Men, Looper, 12 Years a Slave)
When Joe Braven (Jason Momoa), a humble logger residing along the U.S./Canada border is confronted by a group of deadly drug runners who have stashed heroin in his secluded cabin in the mountains, he must do everything in his power to protect his family. Little do the elite drug runners know the unassuming man they've encountered has an impressive bite colliding two dynamic forces - one fighting for the lives of his family, the other for the love of the kill.
Reviews
Screendependent.be: De film is goed van het begin tot het einde en weet actie perfect te vermengen met het kleine dramatische verhaal. Regisseur Lin Oeding presenteert een stijlvolle, spannende en met momenten rakende film die echt de moeite waard is. En door het acteerwerk van Jason Momoa en Stephen Lang wordt het allemaal nog beter. Laat je dus niet misleiden door het feit dat de film niet in de bioscoop te zien was!
Variety.com: Braven remains exciting and suspenseful even after Joe vrooms out of the claustrophobic cabin setting on an ATV, triggering a manhunt in the snow that further illustrates Oeding's ability to choreograph action in clear, clean fashion. And that action is all the more involving because the freshman filmmaker gives his actors sufficient time to flesh out their characters before the bullets (and arrows) start flying. To put it simply and gratefully: Braven is the sort of unpretentious yet thoroughly professional popcorn entertainment that brings out the best in everybody involved.
Villagevoice.com: Any cheapjack action movie can get a crowd to cheer at its shock kills. It's the best ones that persuade us that there's a clear chain-of-events physical logic at play — that find suspense in one action leading inevitably to another.
Latimes.com: Action-thriller 'Braven's' Jason Momoa proves as skilled on land as he is at sea. It's Momoa's show and he brings strength, warmth and gravitas to a part that, thanks to an emotionally-grounded script. A solid, fast-paced action-thriller.
Slantmagazine.com: Lin Oeding's Braven thrives on both the beauty of its natural, snowbound surroundings and the brutal instincts of man. Braven is the sort of scaled-down, sure-footed, and efficient action film that the hyper-saturated video-on-demand market needs more of.
NYPost.com: For anyone looking for a shot of vengeance adrenaline while waiting for "John Wick 3" to come down the pike, "Braven" will probably fit the bill.
Cinemarter.com: Braven will satisfy action movie fans who want to see a chapter that relies more on the physicality of its actors than technology. It has a simple premise, a slow-burn setup, and then lets it all play out logically.
Flyckeringmyth.com: Lin Oeding's Braven is the kind of 90s punch-in-the-mouth action flick us genre fans fight tooth-and-nail to find nowadays. A deliciously junkfood Jason Momoa centerpiece that could be wedged right between Commando and Cobra watches. Hell, Oeding's opening lumberjack sequence is a straight callback to 1985's Arnold Schwarzenegger classic (missed opportunity not having Momoa carry a log, if you ask me). Reluctant heroes, stone-cold criminals, packages of dope – it's everything we love about cheesy survival flicks with zero hassle. Simplicity be damned. If there's one thing Braven knows how to do, it's show you a bloody good time.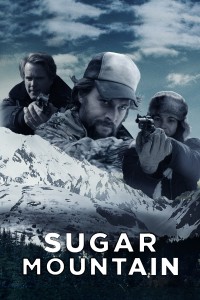 Thriller

Available on VOD: 6 juli 2017

Director: Richard Gray

Cast: Jason Momoa (Justice League, Aquaman, Game of Thrones, Batman v Superman: Dawn of Justice), Cary Elwes (The Princess Bride, Saw), Shane Coffey (Pretty Little Liars), Haley Webb (The Final Destination, Teen Wolf), Drew Roy (Falling Skies), Anna Hutchison (The Cabin in the Woods)
In a small town near the foot of the rugged Sugar Mountain, debt-ridden Miles Parnell hatches a simple plan to make money. Miles persuades girlfriend, Lauren, and brother, Liam, to help fake a disappearance in the wilderness. They'll make it look like
Liam murdered Miles because he was in love with Lauren, then when Miles returns they'll each have a story to sell; one about the brother who survived against all odds, and one about a loyal brother falsely accused of murder.
Miles goes into hiding on the icy mountain and the locals unite to rescue him. The weather turns bad and, the mountain, already home to bears and cougars, becomes even more treacherous. Soon the good people of Sugar Mountain are risking their lives for the sake of a hoax. However, Jim Huxley, the local cop, has always held Miles in disdain and is determined to prove the disappearance is fake. As he closes in on the truth, Liam scrambles to conceal the fraud. But in the process of keeping one secret, another is exposed that rocks him to the core.
And further complications threaten to derail the plan.
Liam really is in love with Lauren.
And Miles really does disappear.
Reviews
Filminquiry.com: Sugar Mountain is a penetrating look at how too many lies in a small town snowball into chaos, how even family can't always be trusted, and just as it is in real life, the numerous twists are surprisingly unpredictable.
Flickhunter.blogspot.nlL: The small ensemble cast hit the right beat for the piece as the plot unfurls right up to the climactic moment. The viewer will think that they're on top of the storyline early only to be faced with performances that challenge type. It's a physical, emotional, earnest tale that's well worth a watch.
Filmjournal.com: Richard Gray has crafted an engrossing, visually stunning crime thriller that looks like it cost many times that. Making full use of widescreen and of natural locations, Gray in his fifth feature conjures breathtaking images that never overwhelm an intimate story of two brothers in suffocating straits, and a simple plan that goes disastrously away.
Undertheradarmag.com: an unexpectedly entertaining, gratifying 106-minute adventure.