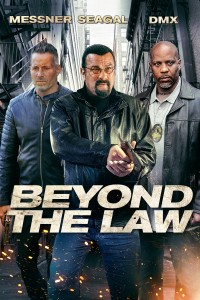 Action, Crime

Available on VOD: 4 juni 2020

Director: James Cullen Bressack

Cast: Steven Seagal (Under Siege, A Dangerous Man, Executive Decision), Johnny Messner (Tears of the Sun, Hostage, Running Scared), DMX (Cradle 2 the Grave, Exit Wounds)
A former mobster turned businessman and a police detective must contend with a dirty ex-cop looking to bring the killer of his son to justice.
Reviews
TheActionElite.com: Beyond the Law is one of Seagal's better films of late even if he doesn't do all that much; this is Johnny Messner's show and he gets to be broody and badass while he's out for revenge.
Actionreladed.com: Overall its a solid action thriller featuring a cool cast line up. The story keeps you hooked and has some twists too it.
Carlosdev.wordpress.com: Seagal still has plenty of presence.
Monsterhuntermoviereviews.com: Such a clear-eyed approach to the pitfalls of a life of crime could only be dispensed by that braggadocios behemoth, Steven Seagal.