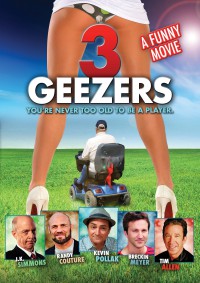 Comedy

Available on VOD: 1 januari 2014

Director: Michelle Schumacher

Cast: Scott Caan (Hawaii 5-0), Tim Allen (The Santa Clause), Breckin Meyer (Ghosts of Girlfriends Past, Herbie Fully Loaded), J.K. Simmons (Spider-Man, Juno), Randy Couture (The Expendables 1 & 2)
J. Kimball is an actor who really likes to get 'into' his roles. He wants to know how his characters behave, so he can give his best performance. Kimball's latest role is as an 'old man,' which is a problem as Kimball does not like old people. His wife convinces (that is, withholds sex until he agrees to do what she says) Kimball to go to The Coconuts Convalescent Home and actually see what it's like to live as an old man, and that may change his mind about old people. Let's just say, Kimball gets more than he bargained for! In the end, Kimball learns that old men are horny, politically incorrect, and really love giving their friends a hard time. So, really, not any different than young men!
Reviews
Thestopbutton.com: The humor's offensive retirement home potty humor (and it's often very funny).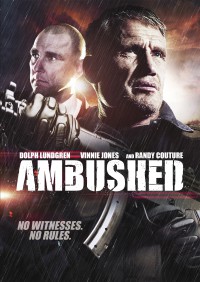 Action, Crime

Available on VOD: 8 april 2014

Director: Giorgio Serafini

Cast: Daniel Bonjour (Allan Quatermain and the Temple of Skulls), Carly Pope (Textuality, Young People Fucking, Elysium), Gianni Capaldi (A Certain Justice), Dolph Lundgren (The Expendables 1/2, Universal Soldier, SAF3), Randy Couture (The Expendables 1 & 2), Vinnie Jones (Snatch, Hijacked, X-Men: The Last Stand), Susie Abromeit (World Invasion: Battle Los Angeles)
In the frenetic underbelly of Los Angeles, Agent Maxwell closes in on an international cocaine smuggling operation run by criminal mastermind Vincent Camastra. When Agent Beverly Royce goes undercover with the drug dealers and finds herself deeper then she can handle - the case becomes personal for Maxwell who has to combat ruthless killers and dirty cops in an all-out action filled finale to bring the criminals to justice.
Reviews
1nfluxmagazine.com: Entertains from beginning to end. Kudos to the director on this one.
Bringthenoiseuk.com: An entertaining action film. We enjoyed Ambushed; there was action, drama and a healthy dose of reality.
Dansmoviereport.blogspot.nl: the action and interplay between Vincent and Eddie make for a fun 90 minutes.
Silverscreenslags.com:

Ambushed

is a slick slice of B-Movie action that is perfect for an evening of switching off and relaxing. Serafini directs with an understated professionalism and there are enjoyable performances from Bonjour and Capaldi, as well as higher-profile stars Couture, Jones, and Lundgren.
Blu-ray.com: enjoyable character dynamics, decent performances, a fair pacing, and a plot that isn't needlessly complicated
DVDTalk.com: it ups the sex and violence factor enough that, with a few okay twists thrown in, it's a fine pizza and a six pack movie.. Rent it.
The-Other-View.com: "Ambushed is an intricate web of greed, loyalty, and betrayal, linking together multiple characters and stories into one climatic and explosive ending."
DansMovieReport.blogspot.nl: the action and interplay between Vincent and Eddie make for a fun 90 minutes.