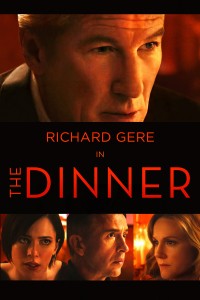 Drama, Thriller

Available on VOD: 16 augustus 2018

Director: Oren Moverman

Cast: Richard Gere (An Officer and a Gentleman, Pretty Woman, Arbitrage, The Second Best Exotic Marigold Hotel ), Steve Coogan (The Trip to Spain, The Other Guys), Laura Linney (Nocturnal Animals, Sully), Rebecca Hall (The Town, Frost/Nixon), Chloë Sevigny (Antibirth, The Snowman)
When Stan Lohman (Richard Gere), a popular congressman running for governor, invites his troubled younger brother Paul (Steve Coogan) and his wife Claire (Laura Linney) to join him and his wife Katelyn (Rebecca Hall) for dinner at one of the town's most fashionable restaurants, the stage is set for a tense night. While Stan and Paul have been estranged since childhood, their 16-year- old sons are friends, and the two of them have committed a horrible crime that has shocked the country. While their sons' identities have not yet been discovered and may never be, their parents must now decide what action to take. As the night proceeds, beliefs about the true natures of the four people at the table are upended, relationships shatter, and each person reveals just how far they are willing to go to protect those they love.
Reviews
Variety.com: Moverman balances the potential for staginess with his flowing cinematic bravura; he keeps surprising you, and he gives the drama a dash of poison elegance.
The Playlist.net: This is a film that glories in juxtaposition, as exchanges of bestial ferocity hiss back and forth in an excruciatingly elegant destination restaurant, and as poisonously feral barbs are traded across a table laden with elaborately effete hors d'oeuvres.
TheWrap.com: At once a darkly comic social satire, a pitch-black moral thriller and an earnest plea to recognize mental illness, The Dinner is a seven-layer dip overflowing with compelling individual ingredients.
Urbancinefile.com.au: All the performances are astonishing. This is an outstanding piece of cinema, provocative and insightful, filled with metaphor and the recognisable flaws of humanity and the world today, yet far from bitter.
Blu-ray.com: The film delivers on both emotional and perhaps especially moral grounds, exposing the traumas experienced by a quartet who can't even decide what the right thing to do is, let alone doing it.
TheIndependentCritic.com: The Dinner is a riveting adult drama that will have you replaying the film over and over again in your mind as you search for the meaning of it all and come face-to-face with the uncomfortable truths.
WeGotThisCovered.com: An imperfect but fascinating film, The Dinner's stellar cast delivers a deeply troubling and psychologically complex treatment of class and family.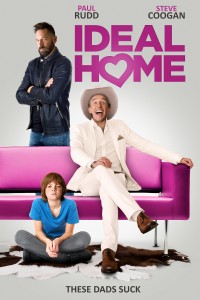 Comedy

Available on VOD: 18 oktober 2018

Director: Andrew Fleming

Cast: Steve Coogan (The Trip to Spain, The Other Guys), Paul Rudd (Ant-Man, This is 40, Fun Mom Dinner), Jack Gore (Problem Child), Alison Pill (Milk, Hail Caesar!), Jake McDorman (American Sniper, Live Free or Die Hard)
A long term, gay couple bicker constantly, but their successful cooking show prevents them from breaking up. However, when their derelict son lands in jail yet again, the grandson shows up at their door with nowhere left to go and the two take him in. A heartfelt, modern family comedy about family, love, and cooking.
Reviews
Empireonline.com (****!): Coogan and Rudd work their asses off to make Erasmus and Paul the most memorable screen gay men since The Birdcage. It's caustic, authentic, and very, very funny.
Variety.com: A cozy duet of tit-for-tat bitchery. 
Gay-Themed-Films.com: Fleming's film is a warm and fuzzy lighthearted comedy that successfully updates conventional depictions of queerness and family in a comedy film. A heartwarming closing montage of real-life LGBTIQ families also reminds us that it's time to update the universal notions of domesticity and re-define what makes a home 'ideal'.
Janksreviews.com: While somewhat unconventional, it takes no stretch of the imagination to see why there is so much love between Erasmus and Paul and how they can offer Bill the stability he desperately longs for. Families come in many shapes and forms, as is the case for this threesome. Ideal Home is a must-see film!
Popculture-y.com: Beware coming into this film looking for a romp of any kind. While there are jokes throughout the film, the best part of it are the moments of real human connection and real human folly between Steve Coogan, Paul Rudd and Jack Gore. Overall, a beautifully constructed film full of wonderful performances.
Screen-space.squarespace.com: Ideal Home represents the kind of quick-witted, meaningful writing that was once sought after by the big studios. Andrew Fleming's dialogue crackles and zings in the mouths of an appreciative cast, his scene structure and pacing skilful and refined.
Maketheswitch.com.au: Steve Coogan and Paul Rudd know how to deliver, whether it's scathing rebuttals or rip-snorting one-liners. A huge amount of fun, with some dark, real moments peppered throughout for a real kick. With just enough sweetness to balance the mixture out, this is a surprisingly endearing film.