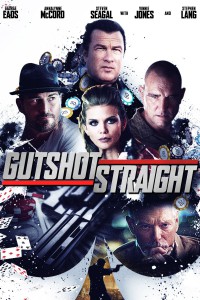 Action, Thriller

Available on VOD: 13 april 2015

Director: Justin Steele

Cast: George Eads (CSI), AnnaLynne McCord (90210, Officer Down, Scorned), Stephen Lang (Avatar, Don't Breathe, In The Blood), Ted Levine (Shutter Island, The Silence of the Lambs, American Gangster, The Bridge), Steven Seagal (Under Siege, A Dangerous Man, Executive Decision), Vinnie Jones (Snatch, Hijacked, X-Men: The Last Stand), Tia Carrere (True Lies), Fiona Dourif (The Messenger, The Master)
A professional poker player, Jack Daniel (George Eads), gets mixed up with the underworld when he takes a wager proposed by Duffy (Stephen Lang), a mysterious gambler. In order to protect his family and himself, Jack must outwit Duffy's cunning brother Lewis (Ted Levine) and scheming wife May (AnnaLynne McCord) as each attempts to force him into murdering the other. Seeking help anywhere he can find it, Jack turns to Paulie Trunks (Steven Seagal), a loan shark looking to collect on Jack's poker debts, who might want to protect his investment.
Reviews
Flickeringmyth.com: The film looks great with some slick and colourful visuals, the acting is pretty good and the story set-up is fantastic and really draws you in.
Goodefficientbutchery.blogspot.nl: Seagal gets a terrific monologue about why he's called "Paulie Trunks" and has a few genuinely funny, possibly ad-libbed lines and he makes every moment count. Gutshot Straight has a lot of positives in its favor.
Devon-cornwall-film.co.uk: A nifty little B-movie neo-noir. He may be one of the least showy CSI cast members, but blank canvas George Eads is a surprisingly effective noir antihero, and shoulders the double-crossing narrative convincingly. Admittedly, the pace does slacken in the second half of the film, but Gutshot has enough worthwhile moments to keep you interested. Inessential, but strangely appealing.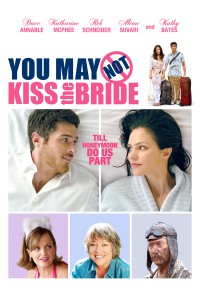 Romantic Comedy

Available on VOD: 5 februari 2013

Director: Rob Hedden

Cast: Dave Annable (Brothers & Sisters), Katharine McPhee (Smash), Rob Schneider (Deuce Bigalow, You Don), Kathy Bates (Titanic, About Schmidt), Vinnie Jones (Snatch, Hijacked, X-Men: The Last Stand), Tia Carrere (True Lies), Ken Davitian (Borat)
Bryan Lighthouse photographs pets for a living – until the day that a client's German Shepherd chases and maims the beloved cat owned by the wife of Croatian crime lord Vlatko Nikitin. Rather than killing Bryan, Nikitin offers him an alternative: marry his daughter Mashaso she can get her green card. Bryan meets his Croatian bride and is instantly attracted to her... But, Nikitin makes it perfectly clear that Bryan is not allowed to touch Masha since she's been promised to Nikitin's jealous hit man, Brick. When Masha gets abducted and Brick convinces Nikitin that Bryan must be behind the plot, the pet photographer is as good as dead.
Reviews
Filmdilettante.com: A funny storyline, a good comic cast, and great sight gags ... a shining example of the genre.
ScreenSpotlight.com: Katharine McPhee seems so sweet and innocent and David Annable has a bright future.
Washington Post: Its lunacy is well staged and fast-paced.
Matchflick.com: YOU MAY NOT KISS the BRIDE is a Rom-Com for guys, full of physical comedy, explosions, and gunplay, and for girls who like the nice guy to get the girl, complete with a very gooey Hollywood Ending. Let's just say everyone's dreams came true, which is no real spoiler for a Rom-Com.
Themoviescene.co.uk: The likeability of Dave Annable and Katharine McPhee combined with a recognizable supporting cast and some genuinely amusing scenes makes it a pleasant surprise and much better than you probably expect.
Screenspotlight.com: Katharine McPhee seems so sweet and innocent and David Annable has a bright future in the movie business. This film definitely needs more Rob Schneider but his absence is forgivable as his character is by definition a colossal dumbass. Vinnie Jones is his typical rugged and bullying self (not a compliment). It is always worth a look to see Ken Davitian trying to play a character that is not associated with Borat. Perhaps my favorite character/actress in the film is Mena Suvari. She is willing to do whatever it takes to entertain audiences and it is clear that her incredible physique is often overlooked. Essentially, You May Not Kiss the Bride is worth your attention.