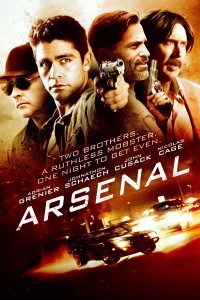 Action

Available on VOD: 16 maart 2017

Director: Steven C. Miller

Cast: Nicolas Cage (The Bad Lieutenant, Drive Angry, Leaving Las Vegas, Kick-Ass), John Cusack (2012, Drive Hard, Cell, Hot Tub Time Machine), Adrian Grenier (Entourage, The Devil Wears Prada, Marauders), Lydia Hull (Van Wilder, Escape Plan 2), Johnathon Schaech (That Thing You Do, Marauders, The Prince)
A powerful action thriller, ARSENAL tells the intertwining stories of the Lindel brothers, Mikey (Johnathon Schaech) and JP (Adrian Grenier), who had only each other to rely on growing up. As adults, JP found success as the owner of a construction company, while Mikey became a small-time mobster, mired in a life of petty crime. When Mikey is kidnapped and held for a ransom by ruthless crime boss Eddie King (Nicolas Cage), JP turns to the brothers' old pal Sal (John Cusack), a plain clothes detective for help. In order to rescue his brother, JP must risk everything and unleash his vengeance against King's relentless army of gangsters.
Reviews
Wegotthiscovered.com: The actor gives the kind of performance that awed directors let Brando give at the end of his career: one that's completely OTT.
Omenly.com: Nicolas Cage (Eddie King) throws around his nuttiness and violent yet amusing reactions in a way that keeps the audience interested.
Cutprintfilm.com: Any moment Cage is on screen here becomes hypnotic. You're drawn into every single bizarre choice the actor makes, completely uncertain of what he's going to do next. In one of the film's best scenes, Eddie's brother Buddy (Deadfall director and Cage's real-life brother Christopher Coppola) shows up to reprimand Eddie for his sloppiness. What follows is a slow-motion dance of carnage, with splashes of blood flying up into Cage's glorious mustache.
DallasFilmNow.com: Arsenal frames its relentless beatings doled out by Nicolas Cage against slow-motion effects and a melancholic hymnal of sorts.
Filmschoolrejects.com: Cage is mesmerizing whether he's talking, sobbing, hissing, or ranting - his War of the Gargantuas reference is especially endearing.
Goodefficientbutchery.blogspot.nl: Cage is here to do exactly what you expect him to do: shout, yell, scream, spaz out, and totally Cage it up.
Joblo.com: Cage's whacked-out performance is what makes ARSENAL worth checking out, with him having a blast throughout. He doesn't phone it in at all, and Cage is always fun to watch when he's in gonzo mode.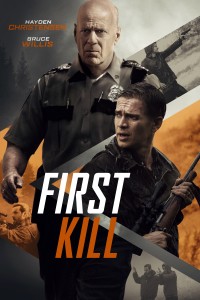 Action, Thriller

Available on VOD: 5 oktober 2017

Director: Steven C. Miller

Cast: Bruce Willis (Die Hard, Red, Sixth Sense, Split), Hayden Christensen (Star Wars: Episode II, III, Jumper), Gethin Anthony (Game of Thrones), Megan Leonard (The Life and Death of John Gotti)
In this gripping action thriller starring Bruce Willis, a man and his son witness a thug shooting a bank thief while on a hunting trip. When the bank robber takes the boy hostage in order to recover the money from the bank heist, the frantic father and a police chief (Bruce Willis) must join forces to solve the high-stakes kidnapping with a ticking clock.
Reviews
Chicago.suntimes.com: The blood-soaked potboiler First Kill is Generous Pour through and through, from Bruce Willis playing a cop for the umpteenth time in his career to the old switcheroo we can see coming a mile away to the pounding and overwrought score to some genuinely effective detours and subplots.
Variety.com: A reasonably entertaining series of off-road chases and backwoods shootouts en route to that final confrontation.
LATimes.com: First Kill features an efficient, lightning speed plot.
Maddwolf.com: Willis supplies his natural gravitas and Ohioan Shelton makes an impressive big screen debut. As young Danny, Shelton's easy rapport with Gethin Anthony (as kidnapper Levi) is a constant highlight.
Thatmomentin.com: A decent crime thriller.
Dallasfilmnow.com: First Kill is competent and involving. The action scenes — including one vehicle/RV chase that's constructed cleverly with an uninterrupted sense of place via gliding tracking shots — never feel unrealistic or exaggerated. And even though the film telegraphs a few of its third act character reversals, Miller and screenwriter Nick Gordon plumb the depths of innocence versus malignancy with a shrewd eye for satisfying entertainment.
TheIndependentCritic.com: fully devoted to telling a story and telling it well.