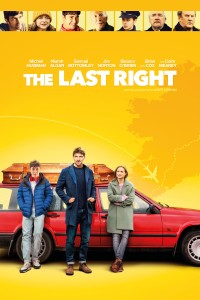 Comedy, Drama

Available on VOD: 25 februari 2021

Director: Aoife Crehan

Cast: Michiel Huisman (Game of Thrones, The Age of Adaline), Samuel Bottomley (Ackley Bridge), Niamh Algar (Raised by Wolves), Colm Meaney (Law Abiding Citizen, Seberg), Brian Cox (Churchill, Succession)
New York-based DANIEL MURPHY wakes on a flight home to Ireland for his Mum's funeral to find elderly passenger PADRAIG MURPHY has died in the next seat. To his surprise the lonely Padraig had just listed him as his next of kin.
In a bid to persuade his autistic brother LOUIS to return to New York with him, Daniel agrees to drive Padraig's remains across the length of Ireland, from Cork to Rathlin Island, to be buried with his brother. Hitching a ride in the passenger seat is the funeral home temp MARY, who is on a mission to correct a drunken mistake. Meanwhile, the police realise Daniel has no business driving off with Padraig's body, and Daniel, Mary and Louis find themselves the focus of a nationwide manhunt. 
Reviews
Indebioscoop.com: de kijker valt vanaf minuut één in de film. Gecombineerd met het lichte en vaak humoristische verhaal kunnen we The Last Right typeren als de lightversie van Rain Man. 4 sterren.
Telegraaf.nl: een prachtig groen land met 'good craic, het Ierse equivalent van gezelligheid.
Cinemagazine.nl: The Last Right biedt een fijne, warme ontsnapping aan het dagelijks leven.
Filmtotaal.nl: Crehan levert een vermakelijk speelfilmdebuut met een hoog feelgoodgehalte.
Volkskrant.nl: Michiel Huisman doet het uitstekend als Amerikaanse Ier in de gemoedelijke roadmovie The Last Right.
Trouw.nl: Een warme film met een simpele boodschap: wees vriendelijk, ook voor vreemden. Prima acteurs en liefdevolle blikken op Ierland.
AD.nl: De film weet een fijne sfeer neer te zetten, met behulp van droogkomische, typische humor en aaibare Ieren in minirolletjes.
NRC.nl: kruist het genre van de roadmovie met elementen uit de romantische komedie. Het resultaat is plezierig.
Parool.nl: Een verademing, zo zou je het sympathieke The Last Right kunnen omschrijven in deze barre tijden.
Filmireland.net: A thoughtful approach to grief and isolation with sadness and humour that will ultimately offer hope for its characters. It's an unexpected road trip full of heartbreak, humour and human kindness.
TheGuardian.com: Gently heartwarming, this homecoming story about a lawyer and his autistic brother fits like a well-worn onesie.
Irishtimes.com: A likeable salute to a Magic Ireland we don't see much anymore. Lovely performances.
TheTimes.co.uk: Writer-director Aoife Crehan makes a fine — and madcap — debut.
Entertainment.ie: Sweet and earnest in all the right places.
Filmireland.net: Dutch actor Michiel Huisman has a fresh and alluring onscreen presence.
Totallydublin.ie: Hilarious