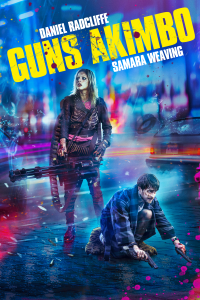 Action

Available on VOD: 3 september 2020

Director: Jason Lei Howden

Cast: Daniel Radcliffe (Harry Potter, Now You See Me 2), Samara Weaving (Three Billboards Outside Ebbing, Missouri , Home and Away, Bad Girl), Rhys Darby (Yes Man, Jumanji I and II), Ned Dennehy (Peaky Blinders)
Videogame developer Miles (Daniel Radcliffe) is a little too fond of stirring things up on the internet with his caustic, prodding, and antagonistic comments. One night, he makes the mistake of drunkenly dropping an inflammatory barb on a broadcast of Skizm, an illegal death-match fight club streamed live to the public. In response, Riktor (Ned Dennehy), the maniacal mastermind behind the channel, decides to force Miles' hand (or hands, as it were) and have him join the "fun." Miles wakes to find heavy pistols bolted into his bones, and learns Nix (Samara Weaving), the trigger-happy star of Skizm, is his first opponent. She's at his front door.Gleefully echoing elements of Edgar Wright's Scott Pilgrim vs. the World, the Purge franchise, and videogames like Smash TV and Mortal Kombat, Guns Akimbo is hilariously dark, viciously violent, and chillingly prescient. Howden foretells of a future that may soon await us: drone-captured live feeds, UFC-like competitions pushed to an extreme and online streaming platforms used for gladiatorial entertainment all around the world. As Miles navigates the underworld of Skizm, the stakes — and the ratings — have never been higher.
Reviews
NWTV.nl: Guns Akimbo is gewoon bizar en dat is oké.
Defilmrecensent.nl: Fout en over-the-top op alle beste manieren!
Mannen Magazine: Wat. Een. Film.
Srsck.com: Guns Akimbo IS wild!
Veronica Magazine: Het moge duidelijk zijn dat dit een knettergestoorde film is, die genoeg maffe lol en in-your-face-actie te bieden heeft om anderhalf uur amusant te blijven.
Cinemagazine.nl: voor je wekelijkse portie opgewekt lomp vermaak kun je prima terecht bij Guns Akimbo.
Volkskrant: De actie wordt spectaculair en dynamisch in beeld gebracht.
Pim-is-watching.com: What the actual fuck... Wat een briljante film!! Ik voorspel een cultstatus. Kaliber Boondock saints. Bril-jant!! Ik ben een fan. De art, de bullshit, de actie. Waanzinnig. Hier heb je een absolute topper mee gekocht. P. de Waard.
RogerEbert.com: Guns Akimbo for all its outlandishness, is a spectacularly fun and exciting time whenever the needle drops and Weaving owns her badass, gun-wielding image. 
Butwhythopodcast.com: Overall, Guns Akimbo is a world of fun mayhem without too much substance but near-perfect character performances and so much stylistic violence. The film also continues to solidify Weaving's status as a genre queen, which is not to be understated.
ign.com: This is balls-to-the-wall action, with Guns Akimbo delivering thrills, spills and genuinely spectacular kills.
Gmbacklot.com: Guns Akimbo is a wild ride that will keep you on the edge of your seat enjoying the carnage in a way few films have yet to manage.
Crookedmarquee.com: Guns Akimbo is evidence of filmmakers who not only know how to make good movies; they also wear all of their insane, colorful, and playfully nasty influences right on their sleeves — and in this case that's just a whole lot of fun to watch.
Dailygrindhouse.com: This film is a monster. There's a feral punk energy to it, and Howden directs the hell out of his action scenes. Everything is lit up in blue and red giallo-police-light colors, and the camera loops and swirls around bodies being rent through with bullets, all as a series of 1980s pop covers underline everything. It all threatens to become a little too fatiguing. But Howden knows how to keep a steady hand on everything. GUNS AKIMBO is discordant, cranked-up nuttiness, but it's never less anything but fun.
Joblo.com: a funny little genre mashup, and has enough gore and shoot-em-ups to please genre fans.
ModernHorrors.com: Guns Akimbo is an adrenaline-drenched ballet of bullets, bathed in colors that would make Dario Argento proud. It may not land with everyone, but the right audience will go wild for its caffeinated cartoon-colored John Woo stylings.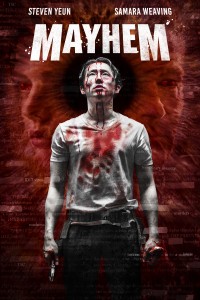 Action, Horror

Available on VOD: 26 april 2018

Director: Joe Lynch

Cast: Steven Yeun (The Walking Dead, Okja), Samara Weaving (Three Billboards Outside Ebbing, Missouri , Home and Away, Bad Girl), Steven Brand (Hellraiser: Revelations)
The story of a virus that infects a corporate law office on the day attorney Derek Saunders (Yeun) is framed by a co-worker and wrongfully fired.  Trapped in the quarantined building, our hero is forced to savagely fight tooth and nail for not only his job but his life.
Reviews
Variety.com: Equal parts corporate satire and violent melodrama, this indie with attitude is an exuberantly gonzo thriller.
RogerEbert.com: A stylish, smart, propulsive gore-fest set in a corporate America that takes no prisoners. It's like "Office Space" if Michael Bolton went on a murderous spree with a nail gun, playing on workplace stress instead of pure id, and it has a violent momentum that's hard to deny, well-directed by Lynch.
Scary Epidemic: Very reminiscent from horror movies like The Belko Experiment and Severance, its concept is filled with lots of dry humor and plenty of gore. Steven Yeun is fantastic in the lead role, and proves that he can carry a movie without an entire cast breathing down his neck (looking at you Walking Dead). Full review here.
Horror-movies.ca: You MUST watch "Mayhem" when it is available. This violent masterpiece has little to no flaws, is terrifically entertaining, for various reasons, from beginning to end, and is definitely the best film of the 2017 edition of Fantasia. I reward it with a perfect 5 stars out of 5.
Cinemaslasher.com: hanks to its likable protagonists, relatable themes, sharp editing, synthy score, and incredible soundtrack of licensed music, Mayhem is an absolute blast and should not be missed by anyone with an affinity for intense genre cinema. This one is an absolute blast that deserves the highest of recommendations.
Culturecypt.com: frenzied fun and vicious violence.
Cutprinfilm.com: Lynch stages impalings and hammerings and nail-gunnings for maximum impact. He makes stunning use of sound to give each event its own savage feel. And he escalates the bloodletting in creative ways. But there's an odd sort of righteousness about it all. Yeun and Weaving are responsible for that. The pair have a palpable, natural chemistry that brings a much needed humanity to the bloody business at hand. Their quippy back-and-forth would be right at home in a romantic comedy if they weren't, you know, mercilessly killing lots of people all the way.
Modernhorrors.com: Lynch's latest feature is a true crowd pleaser; it's a God damn blast. It's vicious and funny, and wildly entertaining.
Thewolfmancometh: As a filmmaker, Lynch has fully embraced his enthusiasm and passion for genre cinema while also flexing his comedic chops, all thanks to the tour-de-force performance of his new muse, Steven Yeun.
Wegotthiscovered.com: Mayhem is a wonderfully violent middle finger to corporate culture, gleeful in its desire to redecorate cubicles with red blood splatters.
Awards
Second place audience award Razor Reel 2017.
Chattanooga Film Festival 2017 : Audience Award