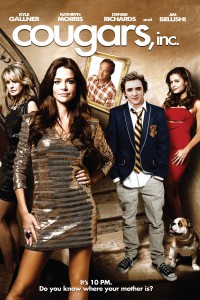 Comedy

Available on VOD: 1 oktober 2011

Director: K. Asher Levin

Cast: Kyle Gallner (American Sniper, Jennifer's Body), Kathryn Morris (Minority Report), Denise Richards (Starship Troopers), James Belushi (According to Jim, K-9), Sarah Hyland (Modern Family, Cougars Inc.)
Sam has been kicked out of every school across the country. When he learns that his mother can no longer afford to keep him in school he and his friends start their own escort service, Cougars, Inc., to help pay for his tuition. Through this hilarious new job Sam and his friends explore the generation of Cougars who are desperately trying to stay young and loving every lesson they are taught.
Reviews
DVDmg.com: a decent cast and an interesting twist on its themes.